Knife Ninja
Become the ultimate master of precision and skill in "Knife Ninja"! This browser mobile game challenges you to test your throwing abilities as you aim to become a true knife-throwing ninja.
Step into the shoes of a talented ninja and embark on a thrilling adventure where accuracy is everything. Your objective is simple: throw knives at rotating targets with precision and perfect timing. But be careful, one wrong move and it's game over!
With its addictive gameplay and simple controls, "Knife Ninja" offers a captivating experience for players of all ages. Tap the screen to throw knives, aiming to hit the targets without hitting other knives already stuck in the rotating wheel. Progress through increasingly challenging levels and unlock new stages as you showcase your ninja skills.
Challenge yourself to achieve high scores and unlock special knives with unique abilities. From fiery blades to icy daggers, each knife adds a thrilling twist to the gameplay and enhances your chances of hitting the bullseye.
Immerse yourself in the game's stylish and sleek visuals, accompanied by satisfying sound effects that make each successful throw feel even more rewarding. The minimalist design and smooth animations create a visually appealing experience that keeps you engaged in the addictive knife-throwing action.
Best of all, "Knife Ninja" is available for free on your mobile browser, allowing you to sharpen your skills anytime, anywhere. So sharpen your blades, focus your aim, and get ready to unleash your inner ninja in "Knife Ninja"! It's time to show off your knife-throwing prowess and become the ultimate master of precision.
Screenshot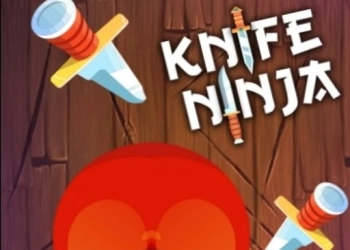 Game Information
Game title:
Knife Ninja
TIMES PLAYED: 523 VOTES: 10
Play Game
How to play
1. Aim: Tap and hold on the screen to aim your knife.
2. Release: Release your finger to throw the knife towards the rotating target.
3. Timing: Make sure to time your release correctly so that the knife hits the target without colliding with other knives.
4. Hit the targets: Your goal is to hit as many targets as possible to earn points and progress through the game.
5. Avoid collisions: Be careful not to hit the other knives already stuck on the targets. If your knife collides with another knife, it's game over.
6. Collect apples: Some targets may have apples on them. Try to hit the apples to collect them and earn extra points.
7. Unlock new knives: As you progress and earn points, you can unlock new knives with different designs and properties.
8. Aim for high scores: Challenge yourself to achieve high scores by hitting multiple targets in a row and avoiding collisions.
More games