Ladder Race 3D
Get ready for a thrilling test of speed and agility in "Ladder Race 3D"! This exciting browser mobile game challenges you to climb your way to the top as you compete against other players in a high-stakes ladder race.
Race through a series of exhilarating obstacle-filled tracks, defying gravity and showcasing your skills as you navigate challenging ramps, swinging pendulums, and moving platforms. With simple touch controls and addictive gameplay, "Ladder Race 3D" guarantees an adrenaline-pumping experience for players of all ages.
Choose from a variety of energetic characters, each with their own unique abilities and personalities. Customize your racer with an assortment of vibrant outfits and accessories, letting you stand out from the competition as you climb towards victory.
Challenge your friends or race against players from around the world in intense multiplayer matchups. Strategize your moves, outmaneuver your opponents, and reach the top of the leaderboard. With competitive rankings and regular tournaments, "Ladder Race 3D" offers endless opportunities to prove yourself as the ultimate ladder racing champion.
Immerse yourself in the game's colorful and dynamic 3D graphics, accompanied by energetic sound effects that enhance the excitement of every leap and dodge. The immersive visuals and pulsating soundtrack create an engaging atmosphere that will keep you hooked throughout your racing journey.
Best of all, "Ladder Race 3D" is available for free on your mobile browser, granting you the freedom to embark on exhilarating ladder races anytime, anywhere. So step up, grab hold, and climb your way to victory in this addictive mobile game. Get ready for a thrilling race to the top in "Ladder Race 3D"!
Screenshot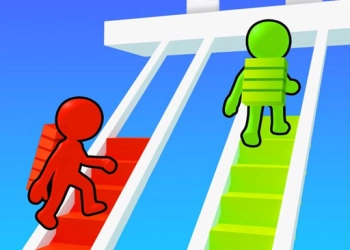 Game Information
Game title:
Ladder Race 3D
TIMES PLAYED: 882 VOTES: 45
Play Game
How to play
1. Launch the Game: Open your mobile browser and visit the website hosting Ladder Race 3D. Look for the game and tap on it to launch it.
2. Select a Character: Once the game starts, you'll have the option to select a character. Choose the character you prefer from the available options. Each character may have different abilities or visual appearances.
3. Understand the Objective: In Ladder Race 3D, the objective is to climb up a ladder as quickly as possible and reach the top. Your character will automatically move forward, and your task is to control their climbing actions.
4. Swipe to Climb: Control your character's climbing by swiping up on your mobile screen. Swipe upward in a timely manner to make your character grab onto the ladder rungs and pull themselves up. The faster and more accurately you swipe, the quicker your character will climb.
5. Avoid Obstacles: As you climb the ladder, you'll encounter various obstacles and challenges. These may include moving obstacles, spinning platforms, or other hazards. Make sure to time your swipes correctly to avoid these obstacles and continue climbing.
6. Collect Coins: Along the way, you'll find coins scattered on the ladder. Try to collect as many coins as possible by reaching out and grabbing them while climbing. Coins can be used to unlock new characters or other in-game features.
7. Race Against Others: Ladder Race 3D often includes a competitive element where you can race against other players. Your goal is not only to reach the top of the ladder but also to do it faster than your opponents. Keep an eye on the progress of other players and try to outpace them.
8. Use Power-Ups (If Available): Some versions of Ladder Race 3D may feature power-ups that can help you climb faster or overcome obstacles. These power-ups are usually scattered along the ladder or obtained by reaching certain milestones. Activate the power-ups to gain temporary advantages and boost your performance.
9. Reach the Finish Line: Continue climbing the ladder, navigating obstacles, and collecting coins until you reach the finish line at the top. The game may end once you successfully reach the top, or you may be ranked against other players based on your completion time.
10. Repeat and Improve: Ladder Race 3D is often designed with multiple levels or stages, each with different ladder layouts and challenges. Once you complete a level, you can move on to the next one and continue your climbing adventure. Challenge yourself to improve your climbing speed and performance with each attempt.
More games