Candy Shooter Deluxe
Indulge your sweet tooth and immerse yourself in a delightful world of candy with "Candy Shooter Deluxe"! This addictive browser mobile game invites you to embark on a colorful and tasty adventure as you match and shoot delicious candies to clear the board.
Get ready to test your aiming skills and strategic thinking as you aim, match, and pop candies in this delightful puzzle game. Your goal is to clear the board by shooting candies to create groups of three or more of the same color. With each successful shot, the candies burst into a shower of sweetness, earning you points and advancing you to the next level.
With its simple and intuitive controls, "Candy Shooter Deluxe" is suitable for players of all ages. Just aim, tap, and shoot to send the candies flying. Strategize your moves to create chain reactions, triggering bonus candies and power-ups that will help you achieve higher scores and overcome challenging levels.
Immerse yourself in the game's vibrant and visually appealing candy-themed world. Explore a variety of deliciously designed levels, each with its own unique challenges and puzzles. From candy-filled landscapes to sugary wonders, the game's captivating graphics and charming animations create an immersive experience that will satisfy your cravings for both fun and sweets.
Challenge yourself to achieve the highest score on each level and unlock special rewards. "Candy Shooter Deluxe" offers a range of exciting game modes, including timed challenges and limited move puzzles, to keep you engaged and entertained for hours. Master your shooting skills and aim for perfection as you progress through the levels.
Connect with friends, share your progress, and compete for the top spot on the leaderboard. Show off your candy popping prowess and prove that you are the ultimate Candy Shooter Deluxe champion.
Best of all, "Candy Shooter Deluxe" is available for free on your mobile browser, allowing you to satisfy your candy-crushing cravings anytime, anywhere. So get ready to embark on a sugary adventure, aim for delicious combos, and satisfy your gaming appetite with this addictive and delightful puzzle game. It's time to shoot, match, and enjoy the sweet rewards in "Candy Shooter Deluxe"!
Screenshot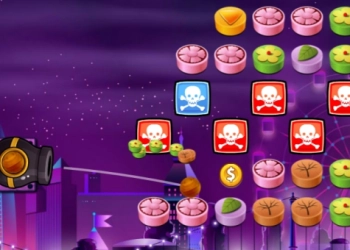 Game Information
Game title:
Candy Shooter Deluxe
TIMES PLAYED: 178 VOTES: 2
Play Game
Game Category
Shooting
Game Tags
How to play
1. Launch the game: Open Candy Shooter Deluxe on your browser mobile game platform.
2. Understand the objective: The objective of Candy Shooter Deluxe is to clear the candy-filled board by shooting candies to create matches of three or more of the same color.
3. Aim and shoot: Use your finger or mouse cursor to aim the candy shooter at the desired target. Adjust the aim by moving your finger or cursor left or right.
4. Release to shoot: Once you have aimed at a target, release your finger or click the mouse button to shoot the candy. The candy will travel in a straight line towards the target.
5. Create matches: The candy you shoot will stick to the candies on the board. Aim to create matches of three or more candies of the same color. When a match is made, those candies will be removed from the board, and new candies will fall from above to fill the empty spaces.
6. Clear the board: Continue shooting candies and creating matches to clear the entire board. The level is completed when there are no more candies remaining on the board.
7. Use power-ups: Candy Shooter Deluxe may include power-ups or special candies that can help you clear the board more efficiently. These power-ups may include bombs that explode and remove nearby candies or rainbow candies that can match with any color.
8. Achieve high scores: Aim to achieve high scores by creating larger matches, clearing multiple candies with a single shot, or using power-ups strategically. Challenge yourself to beat your previous scores and aim for the top spot on the leaderboard.
9. Advance through levels: Candy Shooter Deluxe may have multiple levels or stages with increasing difficulty. Clear each level to unlock the next one and discover new challenges and obstacles.
10. Enjoy bonus features: Some versions of Candy Shooter Deluxe may offer bonus features or extra game modes. Explore these additional features to add variety and excitement to your gameplay.
More games