8 Ball Pool
Dive into the world of competitive billiards with "8 Ball Pool"! This browser mobile game brings the classic game of pool to your fingertips, offering a realistic and immersive experience for players of all skill levels.
Challenge opponents from around the globe in exciting multiplayer matches. Show off your cue skills, strategize your shots, and aim for victory as you compete in thrilling 1-on-1 battles. Rise through the ranks, unlock new venues, and become the ultimate pool champion.
Immerse yourself in the game's stunning 3D graphics and smooth animations that recreate the look and feel of a real-life pool hall. The realistic physics engine adds authenticity to each shot, allowing you to master the art of ball control, spin, and bank shots.
Customize your cue and table with a variety of stylish designs and enhancements. Show off your personality and create a unique playing experience that reflects your style. Earn coins and collect rare cues to further enhance your gameplay and dominate the tables.
Sharpen your skills in single-player practice matches, hone your aim, and perfect your trick shots. Unlock challenging achievements and participate in special events to earn exclusive rewards. With its wide range of game modes and activities, "8 Ball Pool" offers endless hours of entertainment.
Connect with friends, challenge them to friendly matches, and compete in tournaments together. Join online communities, chat with fellow players, and share your best shots on social media. The competitive pool scene is bustling, and it's time for you to make your mark.
Best of all, "8 Ball Pool" is available for free on your mobile browser, allowing you to enjoy the thrill of the game anytime, anywhere. So grab your cue, chalk it up, and sink those balls in this addictive and immersive pool game. It's time to show off your skills, climb the ranks, and become the true master of the 8-ball!
Screenshot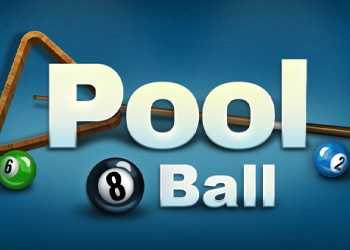 Game Information
Game title:
8 Ball Pool
TIMES PLAYED: 220 VOTES: 3
Play Game
How to play
1. Launch the game: Open the 8 Ball Pool game on your browser mobile game platform.
2. Sign in or play as a guest: You can either sign in with your existing account or choose to play as a guest without logging in.
3. Select a game mode: Choose the game mode you want to play. Options may include 1-vs-1, tournaments, or mini-games.
4. Adjust settings: Customize the game settings according to your preferences. You can choose the table color, cue stick, and other options.
5. Aim and shoot: Use your finger or mouse to aim the cue stick at the cue ball. Drag your finger or mouse back to adjust the power of the shot, and then release to strike the cue ball.
6. Pot balls: Your goal is to pot the balls using the cue ball. If you're playing the 8 Ball Pool variant, your objective is to pocket all of your designated balls (either solids or stripes) and then pocket the 8 ball to win the game.
7. Take turns: Play alternates between you and your opponent. Take turns aiming, shooting, and attempting to pocket your designated balls.
8. Follow the rules: Adhere to the rules of 8 Ball Pool. For example, if you scratch (pot the cue ball) or fail to hit any balls with the cue ball, it's a foul and your opponent gets ball-in-hand, meaning they can place the cue ball anywhere on the table for their shot.
9. Use tactics and strategy: Plan your shots carefully, considering the positions of the balls on the table. You can use banks, caroms, and English (spin) to control the cue ball and pot the balls more effectively.
10. Win and earn rewards: Continue playing and strive to win matches to earn virtual currency and unlock higher levels, tables, cues, and other in-game rewards.
11. Improve your skills: Practice regularly to improve your skills and become a better player. As you play more games and gain experience, you'll develop better shot-making abilities and learn advanced techniques.
More games