Hit Masters Rush
Gear up for an action-packed adventure in "Hit Masters Rush"! This browser mobile game takes you on a thrilling journey filled with strategic shooting, explosive missions, and intense combat.
As a highly skilled secret agent, it's up to you to save the world from imminent danger. Armed with an arsenal of powerful weapons, infiltrate enemy bases, and eliminate hostile targets with precision. Plan your every move, strategize your attacks, and unleash your deadly skills to accomplish each mission.
Engage in exhilarating shootouts against waves of enemies, utilizing cover, tactics, and your quick reflexes to come out on top. Unlock and upgrade a wide range of weapons, from pistols and assault rifles to explosive devices and futuristic gadgets, to customize your loadout and maximize your firepower.
Navigate through challenging environments, including urban streets, secret labs, and hostile territories. Encounter various enemy types with unique behaviors and abilities that will test your combat expertise. Adapt your strategy and approach to overcome each encounter and emerge victorious.
Immerse yourself in the game's stunning graphics, immersive sound effects, and intense gameplay. The dynamic visuals and realistic physics create an immersive atmosphere that plunges you into the heart of the action. Experience the adrenaline rush as you unleash a hail of bullets, trigger explosive chain reactions, and outsmart your enemies.
Challenge yourself in different game modes, including story-driven missions, time-limited events, and competitive PvP battles. Earn rewards, unlock achievements, and climb the leaderboards as you showcase your skills to the world.
Best of all, "Hit Masters Rush" is available for free on your mobile browser, giving you instant access to thrilling missions and pulse-pounding action. So gear up, load your weapons, and dive into this addictive and adrenaline-fueled shooting experience. It's time to become the ultimate Hit Master and save the world from peril!
Screenshot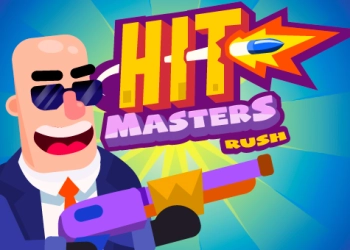 Game Information
Game title:
Hit Masters Rush
TIMES PLAYED: 551 VOTES: 27
Play Game
How to play
1. Launch the game: Open the Hit Masters Rush game on your browser mobile game platform.
2. Start the level: Tap the "Play" or "Start" button to begin the level.
3. Aim your shot: Use your finger or mouse to aim the weapon. Drag your finger or move the mouse to adjust the direction of the shot.
4. Set the power: Tap and hold the screen or click and hold the mouse button to set the power of the shot. Release to shoot the weapon.
5. Hit the targets: Your goal is to hit all the targets in each level. The targets may include enemy characters, obstacles, or other objects.
6. Plan your shots: Plan your shots strategically, considering the positions of the targets and any obstacles in your way. Some targets may require precise timing or specific strategies to hit.
7. Collect rewards: As you hit targets, you may collect coins or other rewards. These rewards can be used to unlock new weapons, upgrade existing ones, or unlock additional levels.
8. Watch out for obstacles: Be aware of any obstacles that may obstruct your shots. Some obstacles may require you to find alternative ways to hit the targets.
9. Use special abilities: In some levels, you may have special abilities or power-ups at your disposal. Activate them strategically to overcome challenges or hit targets more effectively.
10. Complete the level: Hit all the targets to complete the level and move on to the next one.
11. Progress through the game: Continue playing and progressing through the levels, facing new challenges, and unlocking rewards.
12. Improve your skills: Practice your aiming and shooting skills to become more accurate and efficient in hitting the targets.
13. Enjoy the game: Have fun with the fast-paced action and addictive gameplay of Hit Masters Rush.
More games