Impossible Stunt Car Tracks 3D
Get ready for a heart-pounding, adrenaline-fueled experience with "Impossible Stunt Car Tracks 3D"! This thrilling browser mobile game takes you on a daring journey through gravity-defying tracks, where only the most skilled drivers can conquer the impossible.
Buckle up and prepare for mind-bending stunts as you maneuver your car through jaw-dropping tracks suspended high in the sky. With their loops, ramps, twists, and turns, these tracks will test your driving skills to the limit. It's a race against time and gravity as you navigate each challenging level, defying the laws of physics with every daring move.
With its intuitive controls and realistic physics, "Impossible Stunt Car Tracks 3D" offers an exhilarating experience for players of all levels. Use precise acceleration and steering to tackle each track's unique obstacles and reach the finish line. Master the art of precise timing and control to perform spectacular jumps, flips, and spins that will leave you breathless.
Immerse yourself in the game's stunning 3D graphics and immersive environments. From futuristic cityscapes to scenic mountains, each track offers a visually captivating backdrop that adds to the excitement of the gameplay. Experience the rush of adrenaline as you speed through loops and soar through the air, with every twist and turn bringing you closer to victory.
Challenge yourself to achieve the fastest times and unlock new levels and cars. "Impossible Stunt Car Tracks 3D" offers a wide selection of high-performance vehicles to choose from, each with its own unique characteristics and handling. Customize your cars with a range of stylish paint jobs and upgrades, making them as unique as your driving skills.
Compete against friends and players from around the world in the online leaderboard. Show off your driving prowess and prove that you are the ultimate stunt car champion. Share your achievements, challenge others, and inspire awe with your gravity-defying skills.
Best of all, "Impossible Stunt Car Tracks 3D" is available for free on your mobile browser, allowing you to defy gravity and conquer the impossible wherever you go. So strap in, rev your engine, and get ready to push the boundaries of what's possible in this thrilling and visually stunning stunt car game. It's time to embrace the impossible and become a legend in "Impossible Stunt Car Tracks 3D"!
Screenshot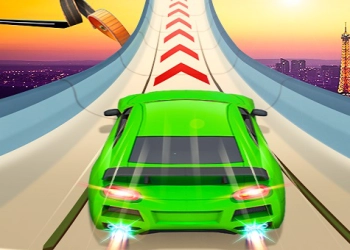 Game Information
Game title:
Impossible Stunt Car Tracks 3D
TIMES PLAYED: 573 VOTES: 32
Play Game
How to play
1. Launch the game: Open Impossible Stunt Car Tracks 3D on your browser mobile game platform.
2. Choose a car: You'll be presented with a selection of different cars. Choose the one you like by tapping or clicking on it.
3. Select a level: After choosing a car, you'll see a list of available levels. Select the one you want to play by tapping or clicking on it.
4. Understand the objective: The objective of Impossible Stunt Car Tracks 3D is to navigate your car through challenging and impossible tracks, overcoming obstacles and reaching the finish line.
5. Start the race: Once the level starts, your car will be placed at the starting point of the track. Get ready to begin the race.
6. Control your car: Use the on-screen controls, such as virtual buttons or tilt sensors, to steer your car. Tilt your device or press the appropriate buttons to control the acceleration, braking, and steering of the car.
7. Navigate the track: Drive your car along the narrow and winding tracks, making sure to stay on the designated path. Be careful not to fall off the track or collide with obstacles, as it may result in a failed attempt.
8. Overcome obstacles: Encounter various obstacles such as loops, jumps, ramps, and other challenging elements. Use your driving skills to maneuver your car and overcome these obstacles.
9. Reach the finish line: Your goal is to reach the finish line of the track. Drive with precision and control to complete the level successfully.
10. Track completion and progression: After reaching the finish line, you'll be informed about your completion time and any rewards or achievements earned. You may also unlock new levels or cars as you progress through the game.
11. Replay or explore other levels: If you enjoyed the level you just completed, consider replaying it to improve your time or explore other levels available in the game. Challenge yourself by conquering more difficult and complex tracks.
12. Customize your car: Some games offer car customization options, allowing you to personalize your vehicle with different colors, patterns, or upgrades. Check if Impossible Stunt Car Tracks 3D offers any customization features and modify your car to your liking.
13. Enjoy the game: Have fun and enjoy the adrenaline-pumping experience of driving on impossible stunt tracks.
More games