Royal Gems Deluxe
Embark on a regal adventure filled with sparkling jewels and captivating puzzles in "Royal Gems Deluxe" - the enchanting browser mobile game that will keep you hooked for hours on end! Get ready to immerse yourself in a world of royal treasures and challenging gem-matching quests.
In "Royal Gems Deluxe," your mission is to explore the kingdom and collect precious gems by matching three or more jewels of the same color. Strategically swap and match gems to create explosive combos and unleash dazzling special effects. With each successful match, you'll earn points and unlock new levels of gem-matching mastery.
Indulge in the majestic visuals of "Royal Gems Deluxe" as you journey through stunning landscapes and awe-inspiring royal palaces. The vibrant colors, stunning animations, and intricate details will transport you to a realm of elegance and grandeur.
Challenge your puzzle-solving skills with hundreds of meticulously designed levels, each presenting new and exciting obstacles to overcome. From limited moves to tricky barriers, every level will test your strategic thinking and gem-matching prowess. Can you solve them all and claim your rightful place among the gem-matching elite?
Unleash the power of special gems and boosters to enhance your gameplay. Use lightning bolts, color bombs, and other magical tools to clear entire rows, columns, or even the entire board in a blaze of glory. Combine multiple power-ups for spectacular chain reactions and watch as the gems explode in a glorious display of light.
"Royal Gems Deluxe" offers simple and intuitive touch controls that make it easy to dive into the gem-matching fun. Just swipe and swap gems to create matches and witness the jewels cascade into place. Whether you're a casual player or a seasoned puzzle enthusiast, "Royal Gems Deluxe" offers a gameplay experience that is both accessible and rewarding.
Best of all, "Royal Gems Deluxe" is completely free to play on your mobile browser. No downloads or installations required. Simply launch the game and immerse yourself in the world of royal treasures and captivating puzzles.
So, if you're ready to embark on a gem-matching adventure fit for royalty, join the enchantment of "Royal Gems Deluxe" now! Match, swap, and collect your way to gem-matching glory. Get ready to experience a puzzle quest like no other!
Screenshot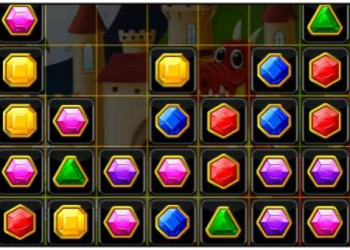 Game Information
Game title:
Royal Gems Deluxe
TIMES PLAYED: 180 VOTES: 2
Play Game
How to play
1. Launch the game: Open the "Royal Gems Deluxe" game on your browser mobile game platform.
2. Understand the game objective: The goal of "Royal Gems Deluxe" is to match and clear gems from the game board to earn points.
3. View the game board: The game board consists of a grid filled with colorful gems.
4. Swap adjacent gems: To make a move, select one gem by tapping on it and then tap on an adjacent gem to swap their positions. The two gems will swap places, creating a new arrangement on the game board.
5. Match three or more gems: The objective is to create matches of three or more gems of the same color in a row or column. When you successfully match gems, they will be cleared from the board and new gems will fall from the top to fill the empty spaces.
6. Create chain reactions: Sometimes, when gems are cleared from the board, it can create a chain reaction where other gems automatically match and clear. Take advantage of these chain reactions to score more points.
7. Utilize special gems: "Royal Gems Deluxe" may include special gems with unique abilities. These can include power-ups that clear multiple gems or special moves that help you in difficult situations. Pay attention to these special gems and use them strategically to enhance your gameplay.
8. Achieve level objectives (if applicable): Some levels in "Royal Gems Deluxe" may have specific objectives to complete, such as reaching a target score or clearing a certain number of gems. Make sure to check the level objectives before starting and strive to achieve them.
9. Score points: Each cleared gem earns you points. The more gems you clear in a single move or through chain reactions, the higher your score will be.
10. Manage your moves: You typically have a limited number of moves to complete each level. Use your moves wisely and plan ahead to ensure you make the most effective matches and clear the required gems.
11. Level up: As you progress through the game, you may unlock new levels or challenges. Each level can present different difficulties or introduce new mechanics to keep the gameplay engaging.
12. Pause or quit: You can pause the game at any time or choose to exit and return to the main menu.
More games