REAL FOOTBALL CHAMPIONS LEAGUE Football Strike
Experience the thrill of the beautiful game like never before in "REAL FOOTBALL CHAMPIONS LEAGUE Football Strike"! This immersive browser mobile game brings the excitement of football right to your fingertips, allowing you to become a true champion on the virtual pitch.
Step onto the field and showcase your skills as you compete in intense matches against top teams from around the world. Take control of every pass, shot, and tackle with intuitive touch controls that put you in complete command of the game. With realistic gameplay and stunning graphics, "REAL FOOTBALL CHAMPIONS LEAGUE Football Strike" offers a truly immersive football experience.
Choose from a wide selection of real-world football clubs, each with their own unique playing style and star players. Build your dream team, strategize your formations, and lead your squad to victory in thrilling matches. Train and upgrade your players to unlock their full potential, improving their skills and abilities as you progress.
Engage in competitive multiplayer matches and challenge your friends or players from across the globe in intense PvP showdowns. Rise through the ranks, earn valuable rewards, and establish yourself as a football legend. Alternatively, immerse yourself in the captivating single-player campaign, unraveling a gripping storyline as you guide your team to glory.
Immerse yourself in the game's realistic graphics, dynamic animations, and authentic stadium atmosphere. The crowd roars with excitement, and the commentary adds to the immersion, creating an electrifying football experience that will leave you on the edge of your seat.
The best part? "REAL FOOTBALL CHAMPIONS LEAGUE Football Strike" is completely free to play on your mobile browser, giving you the freedom to experience football greatness anytime, anywhere. So lace up your boots, step onto the pitch, and unleash your skills in this addictive mobile game. It's time to prove yourself as the ultimate football champion in "REAL FOOTBALL CHAMPIONS LEAGUE Football Strike"!
Screenshot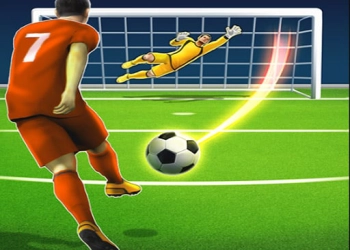 Game Information
Game title:
REAL FOOTBALL CHAMPIONS LEAGUE Football Strike
TIMES PLAYED: 402 VOTES: 10
Play Game
How to play
1. Launch the Game: Open your mobile browser and visit the website hosting REAL FOOTBALL CHAMPIONS LEAGUE Football Strike. Look for the game and tap on it to launch it.
2. Select a Team: Once the game starts, you'll have the option to select your favorite football team from the available options. Choose the team you want to represent in the Champions League.
3. Understand the Controls: REAL FOOTBALL CHAMPIONS LEAGUE Football Strike typically offers intuitive touch controls. Familiarize yourself with the control scheme, which may include swiping, tapping, or sliding gestures on your mobile screen to perform various actions.
4. Play Matches: The game will present you with a series of football matches to compete in. Each match will have different objectives, such as winning the game, scoring a certain number of goals, or completing specific challenges.
5. Control Your Player: During a match, you'll control one or more players on your team. Use the on-screen controls to move your player around the field, pass the ball, and shoot towards the opponent's goal. Master the controls to dribble past defenders, perform skillful moves, and take accurate shots.
6. Defend and Attack: As a player, you'll need to switch between offensive and defensive tactics. When your team has possession of the ball, focus on passing, dribbling, and creating scoring opportunities. When the opponent has the ball, use your defenders to tackle, block, or intercept their passes to regain possession.
7. Execute Special Moves: REAL FOOTBALL CHAMPIONS LEAGUE Football Strike often allows players to perform special moves or skill shots. These moves can be activated by specific gestures or button combinations. Experiment with different techniques to unleash powerful shots or perform impressive tricks on the field.
8. Upgrade Your Team: As you progress through the game, you may earn virtual currency or rewards. Use these resources to upgrade your team's skills, unlock new players, or improve their abilities. Enhancing your team's overall performance will increase your chances of winning matches and advancing in the Champions League.
9. Compete in Tournaments: REAL FOOTBALL CHAMPIONS LEAGUE Football Strike often features tournament modes where you can compete against other players or AI-controlled teams. Participate in these tournaments to test your skills, climb the leaderboard, and earn prestigious rewards.
10. Master the Game: To become a true champion, practice and master the gameplay mechanics of REAL FOOTBALL CHAMPIONS LEAGUE Football Strike. Hone your passing, shooting, and defensive skills to outsmart opponents and lead your team to victory.
More games