Helix Knife Throw 3D
Get ready to test your precision and timing in the thrilling and addictive game of "Helix Knife Throw 3D." Aim, throw, and conquer the spinning helix tower with your expert knife-throwing skills.
In this challenging game, your objective is simple yet exhilarating: hit the targets by throwing knives at the rotating helix tower. But be careful, as each level becomes increasingly difficult, with narrow gaps and moving obstacles testing your aim and timing.
With intuitive touch controls, you can carefully adjust your angle and power to launch the knives accurately. Strategically time your throws to avoid hitting the obstacles and ensure your knives find their mark. Earn bonus points for hitting special targets and accomplishing perfect throws.
As you progress, the levels become more intricate and intricate, with new obstacles and surprises at every turn. Stay focused and sharpen your reflexes as you take on the ultimate challenge of mastering the helix tower.
With stunning visuals and immersive sound effects, Helix Knife Throw 3D provides an engaging and visually appealing experience. The dynamic gameplay and responsive controls will keep you coming back for more, striving to improve your skills and achieve the highest scores.
Compete against friends and players from around the world on the global leaderboard. Rise through the ranks and become the ultimate knife-throwing master. Show off your precision and accuracy to leave your competitors in awe.
Helix Knife Throw 3D is available for free, directly in your mobile browser. No downloads or installations are required, allowing you to jump right into the action whenever and wherever you want.
Are you ready to take on the challenge? Grab your knives, aim for the target, and let the excitement begin in Helix Knife Throw 3D!
Screenshot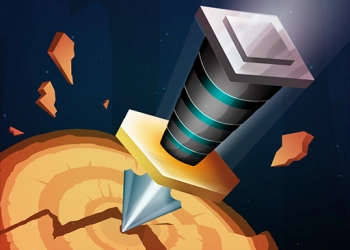 Game Information
Game title:
Helix Knife Throw 3D
TIMES PLAYED: 258 VOTES: 6
Play Game
Game Category
Boys
Game Tags
How to play
1. Launch the game: Open your mobile browser and navigate to the website or platform where Helix Knife Throw 3D is available. Click on the game to start playing.
2. Understand the gameplay: The game features a rotating tower with multiple layers of targets. Your objective is to throw knives at the targets and hit them without hitting any previously thrown knives.
3. Tap or swipe to throw: Tap or swipe on the screen to throw a knife. The knife will be launched towards the tower and attempt to hit one of the targets.
4. Time your throws: Pay attention to the rotation of the tower. The targets will move and align with different openings as the tower spins. Time your throws carefully to hit the targets when they align with an opening.
5. Avoid hitting other knives: It's important not to hit any knives that are already stuck in the tower. If your knife hits another knife, the game is over, and you'll have to start again.
6. Earn points and progress: Each successful hit on a target earns you points. The more accurate your throw, the higher the score. Aim to achieve the highest score possible and progress through the levels.
7. Unlock new knives: As you accumulate points or progress through the game, you may have the opportunity to unlock new knives with different designs or characteristics. Experiment with different knives and find the one that suits your throwing style.
8. Challenge yourself: Helix Knife Throw 3D offers increasing difficulty levels as you progress. The targets may rotate faster or become smaller, making it more challenging to hit them. Test your skills and aim for new high scores.
9. Enjoy the visual effects: The game features colorful and visually appealing graphics, enhancing the overall experience. Watch the knives fly and hit their targets with satisfying precision.
10. Keep practicing: Helix Knife Throw 3D requires practice and hand-eye coordination to improve your aim and accuracy. Don't get discouraged if you miss a few throws initially. With practice, you'll become more skilled and achieve better results.
More games