Armour Crush
Armour Crush is an exhilarating browser-based mobile game that brings intense tank battles and strategic warfare to your fingertips. Engage in epic tank combat as you command a powerful armored vehicle and aim to crush your opponents on the battlefield.
In Armour Crush, you'll step into the role of a tank commander and face off against other players from around the world in action-packed multiplayer battles. Customize and upgrade your tank with a variety of deadly weapons, protective armor, and specialized equipment to gain an edge over your adversaries.
The game features stunning 3D graphics that bring the battlefields to life, immersing you in realistic and immersive environments. Take on different mission types, engage in challenging campaigns, or test your skills in intense PvP matches to prove your dominance on the battlefield.
Strategic thinking and quick reflexes are crucial as you navigate the terrain, unleash devastating attacks, and outmaneuver your opponents. Coordinate with your team to execute effective tactics, capture strategic points, and secure victory.
Armour Crush offers a wide range of tanks to choose from, each with its unique strengths and weaknesses. Experiment with different tank types and find the one that suits your playstyle, whether you prefer heavy armor, rapid firepower, or tactical support capabilities.
As you progress, you'll earn experience points and unlock new tanks, upgrades, and abilities to enhance your combat prowess. Form alliances with other players, join clans, and participate in competitive events to claim rewards, climb leaderboards, and establish your dominance in the tank warfare world.
The game's intuitive touch controls make it easy to maneuver your tank, aim accurately, and unleash powerful attacks on your enemies. Whether you're a seasoned tank commander or new to the genre, Armour Crush offers accessible gameplay that is enjoyable for all players.
Armour Crush is a free-to-play game, allowing you to jump into the action without any upfront cost. However, optional in-game purchases are available to enhance your progress and customize your tanks further.
So, prepare yourself for explosive tank battles and intense multiplayer action in Armour Crush. Download the game to your mobile browser and experience the thrill of armored warfare like never before. Arm your tank, outmaneuver your opponents, and crush your way to victory in this adrenaline-pumping mobile game.
Screenshot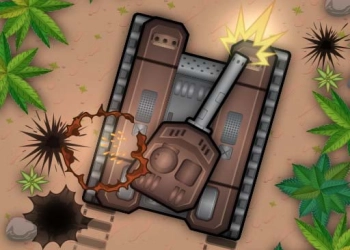 Game Information
Game title:
Armour Crush
TIMES PLAYED: 342 VOTES: 9
Play Game
How to play
1. Launch your preferred mobile browser on your device and navigate to the Armour Crush game website.
2. Once the game loads, you'll be presented with the main menu. Here, you may have the option to sign in with your existing account or create a new one. Follow the instructions to set up your account if required.
3. After signing in, you'll typically have the option to choose a game mode. This can include single-player campaigns, multiplayer battles, or tutorial missions to familiarize yourself with the gameplay mechanics. Select your preferred game mode.
4. In Armour Crush, you'll control a tank on the battlefield. The objective is to destroy enemy tanks, complete objectives, and secure victory for your team.
5. Use the on-screen controls or touch gestures to maneuver your tank. Typically, there will be virtual joysticks or directional buttons to control movement and aim. Drag your finger across the screen to change the direction of your tank's turret.
6. Engage in combat by firing your tank's weapons. Depending on the game's mechanics, this can be done by tapping on a designated fire button or tapping on the target you wish to attack.
7. Pay attention to the HUD (Heads-Up Display) or on-screen indicators, which provide important information such as health, ammunition, and objectives. Use this information to make strategic decisions during battles.
8. Utilize power-ups, special abilities, and upgrades to gain an advantage over your opponents. These can include temporary boosts in firepower, speed, or defensive capabilities. Activate them when necessary to turn the tide of battle.
9. Work with your team in multiplayer battles by coordinating attacks, providing support, and capturing strategic points on the map. Communication is key to achieving victory.
10. As you progress through the game, earn experience points and in-game currency to unlock and upgrade new tanks, weapons, and equipment. Customize your tanks to suit your playstyle and improve your chances of success.
11. Take advantage of any tutorials, guides, or help sections within the game to understand specific features, controls, or gameplay mechanics.
12. Enjoy the immersive graphics, exciting battles, and competitive gameplay that Armour Crush offers. Whether you're playing alone or engaging in multiplayer warfare, strive to become a skilled tank commander and dominate the battlefield.
More games