Draw Couple
Embark on a creative journey of love and expression with the browser mobile free game - Draw Couple! Let your imagination run wild as you bring adorable couples to life through your artistic skills.
Draw Couple is a charming and addictive game that allows you to create unique and lovable characters using simple drawing tools. Whether you're a budding artist or just looking for a fun and relaxing way to pass the time, this game is perfect for you.
Unleash your creativity and design the perfect couple. Choose from a variety of customizable features, such as hairstyles, outfits, accessories, and facial expressions. Mix and match different styles to create a couple that truly represents your artistic vision.
Once your couple is complete, you can save and share your masterpiece with friends or showcase your creations in the in-game gallery. Let your artwork inspire others and receive praise for your creativity.
Draw Couple offers a user-friendly interface and intuitive controls, making it suitable for players of all ages. Whether you're using a stylus or simply using your finger, the game ensures a smooth and enjoyable drawing experience.
Express your emotions, tell a story, or simply enjoy the process of drawing adorable couples with this delightful game. With its charming visuals, relaxing gameplay, and endless creative possibilities, Draw Couple is a must-play for anyone who loves art and romance.
So, grab your mobile device, fire up your browser, and dive into the world of artistic romance with Draw Couple. Let your imagination take flight and create stunning couples that will warm your heart and captivate your audience. Start drawing and let love blossom on your screen!
Screenshot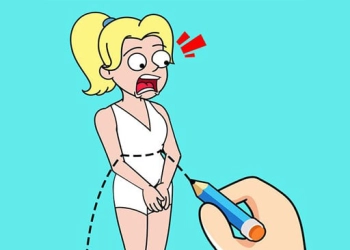 Game Information
Game title:
Draw Couple
TIMES PLAYED: 1318 VOTES: 70
Play Game
How to play
1. Launch the game: Open your mobile browser and navigate to the website hosting the game. Click on the "Play" or "Start" button to begin.
2. Start a new drawing: Once the game loads, you will be presented with a blank canvas. Tap on the screen to start drawing.
3. Customize your couple: Use the drawing tools provided to create your couple. Select different colors, brush sizes, and shapes to bring your characters to life. You can draw their faces, hair, clothing, and accessories.
4. Add details and expressions: Use the tools to add details to your characters, such as eyes, noses, mouths, and other facial features. Express their emotions by drawing smiles, frowns, or any other expressions you desire.
5. Explore options: The game may provide additional options or features to enhance your drawing. Look for buttons or icons that allow you to change backgrounds, add props, or access different tools.
6. Save and share: Once you are satisfied with your drawing, you can save it to your device or share it with others. Look for a "Save" or "Share" button within the game interface. You may have options to save the image as a file or share it directly through social media or messaging apps.
7. Start a new drawing or continue: If you want to create more couples, you can either start a new drawing from scratch or continue working on your existing drawing by using the provided tools.
8. Enjoy and have fun: The game is all about letting your creativity flow and enjoying the process of drawing unique couples. Experiment with different styles, colors, and expressions to create your own masterpiece.
More games