Car Driving Simulator 3d
Get ready for an immersive and thrilling driving experience with Car Driving Simulator 3D! This browser mobile game brings the excitement of realistic car driving right to your fingertips, all for free.
Step into the driver's seat of a wide range of beautifully designed cars and explore a sprawling open world. With stunning graphics and smooth controls, Car Driving Simulator 3D offers a realistic driving simulation that will keep you engaged for hours.
Choose from a variety of game modes to suit your preferences. Whether you're looking for a relaxing drive through scenic landscapes or an adrenaline-fueled race against the clock, Car Driving Simulator 3D has it all. Take on challenging missions, test your skills in thrilling races, or simply cruise through the city streets at your own pace.
Experience the freedom of customization as you unlock and upgrade different car models. Personalize your vehicles with a wide range of paint colors, rims, and even performance enhancements. Drive in style and make your mark on the roads.
Navigate through bustling city streets, scenic highways, and off-road terrains. Encounter realistic traffic patterns, weather conditions, and day-night cycles that add to the immersive gameplay. Stay alert, follow traffic rules, and avoid accidents to become a skilled and responsible driver.
Compete against other players in online multiplayer mode or challenge yourself with engaging solo gameplay. Take part in exciting races, complete time-based challenges, and climb the leaderboards to showcase your driving prowess.
Car Driving Simulator 3D offers an intuitive and user-friendly interface that makes it easy for both casual players and car enthusiasts to enjoy. Whether you're a beginner or an experienced driver, you'll find endless enjoyment in this captivating mobile game.
So, rev up your engines and hit the road in Car Driving Simulator 3D! Immerse yourself in the ultimate driving adventure and experience the thrill of realistic car simulation right from your mobile browser. Get ready to unleash your driving skills and become a true road champion!
Screenshot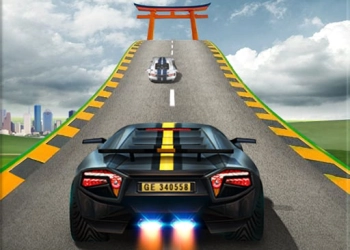 Game Information
Game title:
Car Driving Simulator 3d
TIMES PLAYED: 1599 VOTES: 82
Play Game
How to play
1. Launch the game: Open your mobile browser and navigate to the website hosting Car Driving Simulator 3D.
2. Select your vehicle: Choose your desired car from a wide range of options available. Each car comes with its own unique features and performance characteristics.
3. Choose a game mode: Car Driving Simulator 3D offers different game modes to suit your preferences. Select from options such as Free Roam, Time Trial, or Multiplayer.
4. Customize your car: Before hitting the road, take the opportunity to personalize your vehicle. Customize the color, rims, and other accessories to make your car uniquely yours.
5. Start driving: Once you're ready, you'll find yourself in a realistic 3D environment. Use the on-screen controls to steer, accelerate, and brake your vehicle. Pay attention to traffic signals, road signs, and other vehicles on the road.
6. Explore the open world: Drive around the city streets, highways, or off-road terrains depending on the game mode you chose. Discover different areas, landmarks, and hidden secrets as you navigate through the virtual world.
7. Complete missions and challenges: Engage in various missions and challenges to earn rewards and unlock new features. These missions may involve racing against the clock, delivering packages, or performing specific driving maneuvers.
8. Upgrade and unlock: As you progress in the game, you'll earn virtual currency or experience points that can be used to upgrade your car or unlock new vehicles. Enhance your car's performance, speed, handling, and appearance to dominate the roads.
9. Compete with others: In multiplayer mode, you can race against other players from around the world. Test your skills and see how you rank on the leaderboards.
10. Enjoy the experience: Car Driving Simulator 3D provides an immersive and realistic driving experience. Enjoy the beautiful graphics, dynamic weather conditions, and smooth controls as you become a skilled driver.
More games