Mega Ramp Stunt Cars
Buckle up and get ready for heart-pounding action in "Mega Ramp Stunt Cars"! This adrenaline-fueled browser mobile game will take you on an incredible journey of high-flying stunts and jaw-dropping maneuvers.
Prepare to defy gravity as you take control of powerful stunt cars and conquer massive ramps, loops, and obstacles. Launch yourself into the air, perform insane flips, and navigate through challenging tracks with precision and skill. With intuitive touch controls and thrilling gameplay, "Mega Ramp Stunt Cars" guarantees an exhilarating experience for players of all levels.
Choose from a fleet of high-performance cars, each with their unique characteristics and capabilities. Upgrade your vehicles to unlock their full potential and dominate the ramps with unmatched speed and agility. Customize your cars with a variety of eye-catching skins, showcasing your style and personality as you soar through the air.
Challenge yourself in a variety of thrilling game modes. Take on mind-boggling time trials, push your limits in stunt challenges, or compete head-to-head against friends and players worldwide in intense multiplayer races. With global leaderboards and regular tournaments, "Mega Ramp Stunt Cars" offers endless opportunities to prove yourself as the ultimate stunt car champion.
Immerse yourself in the game's stunning visuals, dynamic environments, and realistic physics. The exhilarating sound effects and energetic soundtrack add to the immersive experience, keeping you on the edge of your seat throughout every daring jump and thrilling stunt.
Best of all, "Mega Ramp Stunt Cars" is available for free on your mobile browser, allowing you to experience the thrill of high-flying stunts anytime, anywhere. So gear up, rev your engines, and get ready to unleash your inner daredevil in this addictive mobile game. Prepare for the ultimate ramp adventure in "Mega Ramp Stunt Cars"!
Screenshot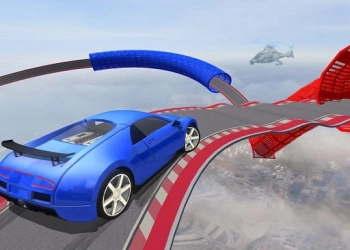 Game Information
Game title:
Mega Ramp Stunt Cars
TIMES PLAYED: 611 VOTES: 18
Play Game
How to play
1. Launch the Game: Open your mobile browser and navigate to the website hosting Mega Ramp Stunt Cars. Locate the game and tap on it to launch it.
2. Select a Car: Once the game loads, you'll be presented with a car selection screen. Choose your desired car by tapping on it. Each car may have different attributes such as speed, handling, and stability.
3. Start the Race: After selecting your car, you'll enter the starting point of the mega ramp. Get ready to race and perform thrilling stunts!
4. Accelerate and Steer: To accelerate your car, tap and hold the acceleration button on the screen. Tilt your mobile device left or right to steer the car in the corresponding direction. Use smooth and controlled movements to maintain balance and control.
5. Navigate the Mega Ramp: As you race, you'll encounter a series of massive ramps, loops, and obstacles. Use the ramps to perform spectacular jumps and flips. Be cautious of the angles and speed required to successfully complete each stunt. Adjust your speed and timing accordingly to ensure a smooth and successful run.
6. Perform Stunts: Mega Ramp Stunt Cars offers a variety of stunts to perform. Tap on the stunt buttons provided on the screen to execute flips, rolls, spins, and other aerial maneuvers. Combine different stunts to showcase your skills and earn extra points.
7. Land Safely: After performing stunts, make sure to land your car safely on the designated landing platform. Aim for a smooth and controlled landing to avoid crashes or losing control of the vehicle.
8. Complete the Level: Your objective in each level is to reach the finish line. Navigate through the challenging ramps and obstacles while showcasing your stunts. Keep racing until you reach the endpoint to complete the level successfully.
9. Unlock New Cars and Levels: As you progress in the game, you'll earn rewards such as coins or points. Use these rewards to unlock new cars with enhanced performance or access additional levels with more exciting challenges.
10. Enjoy the Thrill: Immerse yourself in the high-speed racing and adrenaline-pumping stunts of Mega Ramp Stunt Cars. Experience the excitement of performing jaw-dropping maneuvers and conquering the daring mega ramps.
More games