Fruit Samurai
Slice and dice your way to fruity greatness in "Fruit Samurai"! This addictive browser mobile game puts your slicing skills to the test as you take on the role of a skilled fruit ninja.
Get ready to unleash your inner samurai as you swipe across the screen to slice through a cascade of colorful fruits. Aim for precision and speed as you attempt to create impressive combos and achieve high scores. With intuitive touch controls and fast-paced gameplay, "Fruit Samurai" offers a satisfying slicing experience for players of all ages.
Chop through a variety of juicy fruits, from watermelons to pineapples, while avoiding dangerous bombs that can end your slicing spree. With each successful slice, you earn points and unlock power-ups that amplify your slicing abilities, making you an unstoppable fruit-slicing force.
Challenge yourself in multiple game modes, including timed challenges and strategic puzzles that will test your slicing prowess. Aim for the highest scores, unlock achievements, and compete against friends or players worldwide for the top spot on the global leaderboards.
Immerse yourself in the game's vibrant visuals, juicy animations, and delightful sound effects that bring the fruits to life. The colorful graphics and engaging audio create a fun and refreshing atmosphere, making every slicing session a satisfying experience.
Best of all, "Fruit Samurai" is available for free on your mobile browser, allowing you to slice and dice anytime, anywhere. So grab your virtual katana, sharpen your slicing skills, and become the ultimate Fruit Samurai! Get ready for a juicy slicing extravaganza in "Fruit Samurai"!
Screenshot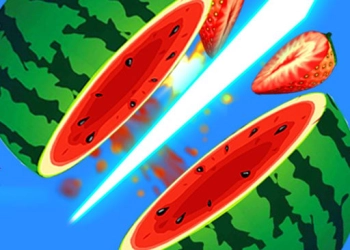 Game Information
Game title:
Fruit Samurai
TIMES PLAYED: 456 VOTES: 12
Play Game
How to play
1. Start the Game: Open your mobile browser and navigate to the website hosting "Fruit Samurai." Look for the game and tap on it to launch the game.
2. Understand the Objective: The objective of Fruit Samurai is to slice and dice various fruits that appear on the screen. Your goal is to slice as many fruits as possible while avoiding any obstacles or bombs that may also appear.
3. Use Swipe Gestures: To slice the fruits, use swipe gestures on your mobile screen. Swipe your finger across the screen in a slicing motion to cut through the fruits. Make sure to slice accurately and swiftly to score points.
4. Avoid Bombs and Obstacles: Be careful not to slice any bombs that may appear alongside the fruits. Slicing a bomb will result in an immediate game over. Additionally, some levels may have other obstacles like obstacles that move across the screen. Avoid slicing these obstacles as well.
5. Score Points: Slicing fruits will earn you points. The more fruits you slice in one swipe, the higher your score will be. Aim to slice as many fruits as possible in a single swipe to maximize your points.
6. Time and Combo Bonuses: Some versions of Fruit Samurai may include time bonuses and combo bonuses. Time bonuses provide you with extra time to play the game, allowing you to slice more fruits. Combo bonuses are awarded when you slice multiple fruits consecutively without missing any. Keep an eye out for these bonuses to enhance your score.
7. Achieve High Scores: Challenge yourself to achieve high scores in Fruit Samurai. Aim to beat your own previous high score or compete with other players for the top spot on the leaderboard.
8. Enjoy Different Modes and Challenges: Fruit Samurai may offer different game modes and challenges. Explore the game to discover variations such as time-limited modes, endless modes, or modes with specific objectives. Each mode can provide a unique and exciting gameplay experience.
9. Improve Your Skills: As you play Fruit Samurai, you'll get better at slicing fruits accurately and quickly. Practice and improve your reflexes to achieve higher scores and become a master fruit slicer.
10. Have Fun: Fruit Samurai offers a fun and addictive gameplay experience. Enjoy the satisfying feeling of slicing fruits and aim for new high scores while challenging yourself to improve your slicing skills.
More games