Super Mario MineCraft Runner
Embark on an epic adventure in the browser mobile free game - Super Mario MineCraft Runner! Join the iconic Super Mario as he enters the world of Minecraft in an exhilarating endless running experience like no other.
In this unique crossover, you'll get to explore a pixelated Minecraft-inspired world filled with familiar characters, blocks, and obstacles. Run, jump, and slide your way through challenging levels as you collect coins, power-ups, and special items along the way.
Test your reflexes and agility as you navigate treacherous platforms, dodge obstacles, and defeat enemies. Encounter iconic Minecraft creatures like zombies, skeletons, and creepers, while also encountering classic Mario enemies like Goombas and Koopas.
Unlock new characters, each with their own special abilities and skills, to enhance your running experience. Choose from beloved characters such as Luigi, Princess Peach, and Toad, and discover their unique abilities to help you overcome obstacles and set new records.
Challenge your friends in multiplayer mode and compete for the highest scores and fastest completion times. Show off your running skills as you aim to top the leaderboards and become the ultimate Super Mario MineCraft Runner champion.
Immerse yourself in the nostalgic pixelated graphics, catchy soundtracks, and addictive gameplay that blend the worlds of Super Mario and Minecraft seamlessly. Whether you're a fan of Mario or Minecraft, this game will surely satisfy your gaming cravings.
So, what are you waiting for? Grab your mobile device, jump into the Super Mario MineCraft Runner, and embark on an unforgettable running adventure! It's time to run, jump, and mine your way to victory!
Screenshot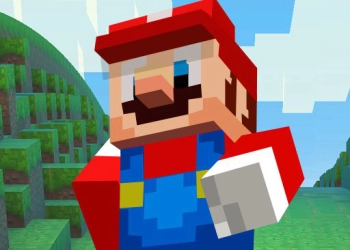 Game Information
Game title:
Super Mario MineCraft Runner
TIMES PLAYED: 1845 VOTES: 96
Play Game
How to play
1. Launch the game: Open your mobile browser and navigate to the website where the game is hosted. Locate the Super Mario MineCraft Runner game and click on it to launch the game.
2. Choose a character: At the start of the game, you will be prompted to select a character. Choose your favorite character from the available options, such as Mario, Luigi, Princess Peach, or Toad.
3. Start running: Once the game begins, your character will automatically start running. Your objective is to keep them running for as long as possible and cover the maximum distance.
4. Collect coins and power-ups: As you run, collect the coins scattered throughout the level. These coins will add to your score and can be used to unlock new characters or power-ups. Look out for power-ups like mushrooms, stars, or fire flowers that grant special abilities and help you overcome obstacles.
5. Avoid obstacles and enemies: There will be various obstacles, gaps, and enemies in your path. Jump over pits, slide under low obstacles, and avoid colliding with enemies to stay alive. If you hit an obstacle or enemy, you'll lose a life.
6. Use special abilities: Each character has their own unique abilities. Take advantage of these abilities to overcome specific obstacles or enemies. For example, Mario can perform a high jump, while Luigi can temporarily phase through solid blocks.
7. Set new records: Try to cover the maximum distance and achieve a high score. Challenge yourself to beat your own records or compete with friends to see who can achieve the highest score.
8. Enjoy the adventure: Immerse yourself in the pixelated world of Super Mario and Minecraft. Enjoy the nostalgic graphics, catchy sound effects, and exciting gameplay as you run through the vibrant and challenging levels.
More games