Kick the Huggie Wuggie
Kick the Huggie Wuggie is an exhilarating and hilarious free browser mobile game that lets you unleash your frustrations in a safe and entertaining way!
Feeling stressed? Need to blow off some steam? Look no further! Kick the Huggie Wuggie provides a unique and satisfying gameplay experience that allows you to take out your frustrations on an adorable, huggable character.
Take control of your virtual leg and deliver powerful kicks to send Huggie Wuggie flying through the air. The more forceful your kick, the farther Huggie Wuggie will soar! Watch with delight as Huggie Wuggie tumbles through the sky, bouncing off various objects and collecting bonus points along the way.
But the fun doesn't stop there! Explore different environments and unlock exciting power-ups to enhance your kicking abilities. From rocket boots to explosive boosts, each power-up adds a new layer of excitement to the game.
With its vibrant and colorful graphics, intuitive controls, and addictive gameplay, Kick the Huggie Wuggie is the perfect game to indulge in some stress-relieving fun. Whether you have a few minutes to spare or want to unwind after a long day, this game is sure to provide endless entertainment.
So, what are you waiting for? Give in to your inner kicker and download Kick the Huggie Wuggie for free on your browser mobile. Get ready to kick, soar, and laugh your way to victory in this hilarious and satisfying game!
Screenshot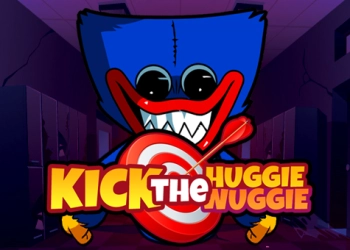 Game Information
Game title:
Kick the Huggie Wuggie
TIMES PLAYED: 885 VOTES: 29
Play Game
How to play
1. Once the game loads, you'll be presented with the main screen.
2. Tap or click on the screen to start the game.
3. You'll see Huggie Wuggie, the adorable character, in front of you.
4. To kick Huggie Wuggie, tap or click on the screen at the desired moment.
5. The force of your kick will determine how far Huggie Wuggie flies.
6. Watch as Huggie Wuggie soars through the air and interacts with different objects in the game environment.
7. Try to make Huggie Wuggie bounce off objects to collect bonus points.
8. As you progress in the game, you can unlock new environments and power-ups.
9. Use the power-ups strategically to enhance your kicking abilities and achieve even greater distances.
10. Keep kicking Huggie Wuggie and aim for the highest score possible.
11. Enjoy the vibrant graphics, intuitive controls, and the humorous and satisfying gameplay of Kick the Huggie Wuggie.
12. Play whenever you want to have a fun and stress-relieving experience.
More games