Furious Highway Road Car Game
Get ready for a high-speed, adrenaline-pumping adventure with "Furious Highway Road Car Game"! This thrilling browser mobile game puts you behind the wheel of powerful cars as you race through traffic on the fast lane of the highway.
Step on the gas and experience the thrill of high-speed racing as you navigate through a variety of challenging highways. Dodge traffic, maneuver through tight spaces, and push your driving skills to the limit to become the ultimate road warrior. With its realistic graphics and immersive gameplay, "Furious Highway Road Car Game" will keep you on the edge of your seat.
Choose from a selection of sleek and fast cars, each with its own unique attributes and handling. Upgrade your vehicles to unlock their full potential and enhance their performance. From speed boosts to nitro boosts, equip your car with powerful upgrades that will give you the edge over your opponents.
Immerse yourself in the game's realistic environments, featuring stunning landscapes, bustling cityscapes, and scenic coastal routes. The dynamic day and night cycle and realistic weather effects add an extra layer of immersion to the gameplay. Feel the rush as you speed past other vehicles, narrowly avoiding collisions, and racing towards the finish line.
Challenge yourself in various game modes, including time trials, elimination races, and endless highway drives. Test your reflexes and precision as you strive for the fastest times and compete against other players on the global leaderboard. Earn rewards, unlock achievements, and establish yourself as the top racer in "Furious Highway Road Car Game".
Connect with friends, challenge them to races, and share your accomplishments on social media. Compete in multiplayer races, prove your skills, and experience the thrill of intense head-to-head competitions. Form racing crews and work together to dominate the leaderboards and take your place among the elite racers.
Best of all, "Furious Highway Road Car Game" is available for free on your mobile browser, allowing you to experience the thrill of high-speed racing wherever you go. So buckle up, put the pedal to the metal, and get ready for the ride of your life in "Furious Highway Road Car Game"! It's time to unleash your inner speed demon and conquer the highways like never before.
Screenshot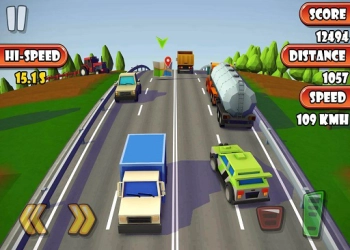 Game Information
Game title:
Furious Highway Road Car Game
TIMES PLAYED: 438 VOTES: 16
Play Game
How to play
1. Launch the game: Open the Furious Highway Road Car Game on your browser mobile game platform.
2. Select a car: Choose your preferred car from the available options. This may involve tapping or clicking on the car selection screen.
3. Understand the objective: The objective of the game is to drive your car as far as possible on a busy highway while avoiding collisions with other vehicles.
4. Start driving: Once the game starts, your car will automatically move forward. Your task is to control the car's movement to navigate through the traffic.
5. Controls: Use the on-screen controls, which are typically displayed as left and right arrows or buttons, to steer your car. Tap or click on the left arrow/button to move the car to the left lane and tap or click on the right arrow/button to move it to the right lane.
6. Avoid collisions: Pay close attention to the traffic on the highway and maneuver your car to avoid crashing into other vehicles. Colliding with other cars or obstacles will end the game.
7. Collect power-ups or bonuses: Some games may feature power-ups or bonuses along the highway. Try to collect them by driving your car over them. These power-ups may provide temporary advantages such as increased speed or invincibility.
8. Keep an eye on the fuel gauge: Some games may have a fuel gauge or a time limit. Make sure to collect fuel or time power-ups to extend your gameplay.
9. Achieve high scores: The game may keep track of your distance traveled or the number of vehicles passed. Try to achieve high scores by driving as far as possible and overtaking other cars.
10. Game over: The game will end if you collide with another vehicle or run out of fuel/time. Your final score and achievements may be displayed on the screen.
11. Retry or quit: After the game ends, you can choose to retry the game to beat your previous score or exit the game to return to the main menu.
More games