Ninja Turtles Coloring Book
Unleash your creativity and bring the Teenage Mutant Ninja Turtles to life with the "Ninja Turtles Coloring Book"! This browser mobile game invites you to dive into a world of vibrant colors and artistic expression as you customize and color your favorite ninja heroes.
Get ready to join Leonardo, Michelangelo, Donatello, and Raphael on an artistic adventure. With a wide selection of coloring tools and a rich palette of colors at your fingertips, you have the power to create unique and eye-catching designs for each turtle.
Let your imagination soar as you color in action-packed scenes, iconic characters, and their thrilling weapons. Add your personal touch to the Turtles' masks, shells, and signature gear, making each coloring page a true masterpiece.
With its user-friendly interface and intuitive controls, "Ninja Turtles Coloring Book" offers a relaxing and enjoyable experience for fans of all ages. Zoom in, zoom out, and select from a variety of coloring tools, including brushes, markers, and gradients, to achieve the perfect look for your artwork.
Immerse yourself in the game's visually stunning graphics, featuring detailed illustrations and dynamic backgrounds inspired by the Teenage Mutant Ninja Turtles' universe. The vibrant colors and lively visuals create an immersive atmosphere, sparking your creativity and imagination.
Share your colorful creations with friends and fellow fans on social media or save them to your device's gallery to cherish and revisit later. Show off your artistic skills and let the world admire your unique take on the Ninja Turtles.
Best of all, "Ninja Turtles Coloring Book" is available for free on your mobile browser, allowing you to unleash your creativity anytime, anywhere. So grab your virtual paintbrush, channel your inner artist, and dive into the world of the Teenage Mutant Ninja Turtles with this captivating coloring experience. It's time to add your personal touch to the heroes in a half-shell!
Screenshot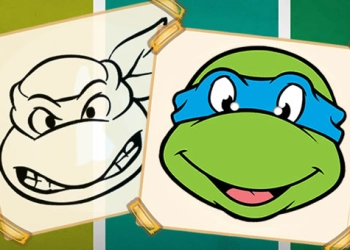 Game Information
Game title:
Ninja Turtles Coloring Book
TIMES PLAYED: 452 VOTES: 22
Play Game
How to play
1. Launch the game: Open Ninja Turtles Coloring Book on your browser mobile game platform.
2. Select a coloring page: Choose from a variety of coloring pages featuring different Ninja Turtles characters such as Leonardo, Donatello, Raphael, and Michelangelo. Tap on the desired coloring page to select it.
3. Pick your colors: At the bottom of the screen, you'll find a palette of colors. Tap on a color to select it. You can also use the color wheel or slider to customize the color shade.
4. Start coloring: Tap on the area of the coloring page you want to color. The selected color will be applied to that area. You can use your finger or a stylus to color the page.
5. Zoom and pan: If you want to color smaller details or access hard-to-reach areas, use the pinch-to-zoom gesture to zoom in or out. You can also pan by swiping the screen to move around the coloring page.
6. Use different tools: Besides coloring with a brush, you can also use other tools to enhance your artwork. Explore options like the bucket fill tool, eraser, or even special effects like sparkle or glow.
7. Undo and redo: Made a mistake? No worries! You can undo or redo your coloring actions using the respective buttons on the screen. Correct any errors or experiment with different color combinations.
8. Save and share your artwork: Once you've finished coloring, you can save your masterpiece to your device's gallery or share it with your friends and family through social media platforms.
9. Explore more coloring pages: If you want to color additional Ninja Turtles scenes, go back to the main menu and select another coloring page to continue your artistic adventure.
10. Enjoy the coloring experience: Relax, unleash your creativity, and enjoy the process of bringing the Ninja Turtles to life with your own color choices. Let your imagination run wild!
More games