Football 3D
Experience the thrill of the beautiful game like never before in "Football 3D" - the ultimate browser mobile game that puts you in the boots of a football superstar! Get ready to lace up, step onto the virtual pitch, and show off your skills.
In "Football 3D," you'll take control of your favorite team and compete in exhilarating matches against top opponents from around the world. Immerse yourself in the realistic 3D graphics and dynamic gameplay as you dribble, pass, and score your way to victory.
Customize your team's appearance, choose your formation, and strategize your gameplay to outsmart your opponents. Take on challenging AI opponents or challenge your friends in exciting multiplayer matches. Will you rise to the top of the leaderboard and become a football legend?
Master the art of precision and finesse as you navigate through the field, dribbling past defenders, and unleashing powerful shots on goal. The responsive controls and realistic physics make every movement and pass feel authentic, allowing you to truly immerse yourself in the world of football.
Participate in thrilling tournaments and leagues, earn rewards, and unlock new teams and stadiums as you progress. Showcase your skills in nail-biting penalty shootouts and prove that you have nerves of steel. Will you be the one to lead your team to glory and lift the coveted championship trophy?
"Football 3D" offers a variety of game modes, including quick matches, career mode, and online multiplayer, providing endless hours of football excitement. Whether you have a few minutes to spare or want to indulge in an extended gaming session, "Football 3D" has something for everyone.
Best of all, "Football 3D" is completely free to play on your mobile browser. No downloads or installations required. Simply launch the game and experience the thrill of football right at your fingertips.
So, if you're a football fanatic ready to showcase your skills, join the excitement of "Football 3D" now! Dribble past defenders, score amazing goals, and become the ultimate football champion. Get ready to kick off your journey to football glory!
Screenshot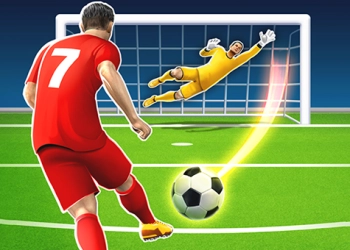 Game Information
Game title:
Football 3D
TIMES PLAYED: 734 VOTES: 37
Play Game
How to play
1. Launch the game: Open the "Football 3D" game on your browser mobile game platform.
2. Start a match: Choose to start a new match or join an existing one. You may have the option to play against the computer or challenge other online players.
3. Understand the controls: Familiarize yourself with the game controls. Typically, you will use touch gestures or virtual buttons on the screen to control the movements of the players.
4. Choose a team: Select your preferred team from the available options. Teams may have different skill levels, player abilities, and team strategies.
5. Control your player: Once the match begins, control your player by swiping or tapping on the screen. Use these controls to move your player, pass the ball, shoot, tackle, and perform other actions.
6. Pass the ball: To pass the ball to another player on your team, swipe in the direction of the desired teammate. Adjust the speed and direction of your swipe to accurately pass the ball.
7. Shoot on goal: When you have an opportunity to score, aim by swiping or tapping on the screen. Adjust the power and direction of your shot to beat the goalkeeper and score a goal.
8. Defend and tackle: When you're on the defensive, position your player strategically to intercept passes or tackle opposing players. Swipe or tap on the screen to make a tackle and try to regain possession of the ball.
9. Utilize skills and power-ups (if available): Some versions of "Football 3D" may include special skills or power-ups. Activate them by tapping on specific buttons or icons on the screen. These abilities can enhance your player's performance or provide additional advantages during the match.
10. Play strategically: Pay attention to the movements of your teammates and opponents. Use tactics and strategy to outwit the opposing team and create scoring opportunities.
11. Score goals and win the match: Your objective is to score more goals than the opposing team within the given time or number of rounds. Use your skills, teamwork, and strategic play to lead your team to victory.
12. Celebrate and progress: After scoring a goal or winning a match, celebrate with your team. Earn points, achievements, or progress to the next level or tournament.
13. Customize and upgrade: Some versions of "Football 3D" may offer customization options for your team, players, or equipment. Explore these options to personalize your gameplay experience.
14. Pause or quit: You can pause the game at any time or choose to exit and return to the main menu.
More games