Hill Race Adventure
Get ready for an adrenaline-fueled adventure in "Hill Race Adventure"! This browser mobile game takes you on a thrilling journey through challenging terrains, steep hills, and breathtaking landscapes.
Buckle up and prepare to conquer the hills in your high-powered off-road vehicle. Maneuver through rugged tracks, avoid obstacles, and navigate treacherous slopes as you race against the clock to reach the finish line.
With its addictive gameplay and responsive controls, "Hill Race Adventure" offers an exhilarating experience for racing enthusiasts. Test your driving skills and push your vehicle to the limit as you tackle each unique level, filled with twists, turns, and unexpected surprises.
Choose from a variety of powerful vehicles, each with its own strengths and capabilities. Upgrade your car's performance to enhance speed, handling, and acceleration, giving you the edge you need to dominate the challenging terrains.
Immerse yourself in the game's stunning visuals, realistic physics, and immersive sound effects that bring the race to life. The detailed graphics and dynamic audio create an immersive atmosphere, making you feel like you're behind the wheel of a high-octane racing machine.
Challenge yourself in different game modes, including time trials, races against AI opponents, and multiplayer battles. Compete against friends and players from around the world, proving that you have what it takes to be the ultimate hill racing champion.
Best of all, "Hill Race Adventure" is available for free on your mobile browser, allowing you to experience the thrill of the race anytime, anywhere. So rev up your engines, grip the steering wheel, and embark on an adrenaline-pumping adventure in "Hill Race Adventure"! It's time to conquer the hills and become the champion of off-road racing.
Screenshot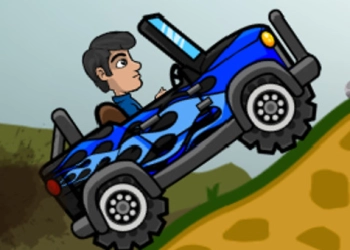 Game Information
Game title:
Hill Race Adventure
TIMES PLAYED: 546 VOTES: 14
Play Game
How to play
1. Start the game: Launch Hill Race Adventure on your browser mobile game platform.
2. Choose a vehicle: Select a vehicle from the available options. Each vehicle may have different attributes such as speed, acceleration, and handling.
3. Start the race: The race begins on a hilly track with various obstacles and jumps.
4. Accelerate and brake: Use the on-screen controls or tilt your device to control the vehicle's speed. Tap or hold the accelerator button to move forward and use the brake button to slow down or stop.
5. Navigate the terrain: Use your driving skills to navigate through steep hills, slopes, and curves. Be cautious not to flip over or crash into obstacles.
6. Collect coins: Along the track, there will be coins scattered that you can collect. Grab as many coins as possible to earn points.
7. Perform stunts: Use ramps and jumps to perform stunts in mid-air. The more flips and tricks you do, the higher your score.
8. Reach the finish line: Your goal is to reach the finish line as quickly as possible while overcoming obstacles and maintaining control of your vehicle.
9. Unlock new levels and vehicles: As you progress in the game and earn points, you can unlock new levels and vehicles with better performance.
10. Beat your own records: Keep playing to improve your time and score on each track. Aim to beat your own records and set new personal bests.
More games