Happy Glass Puzzles
Welcome to Happy Glass Puzzles, the ultimate brain-teasing browser mobile free game that will put your puzzle-solving skills to the test! Get ready to embark on a delightful journey filled with challenges, creativity, and endless fun.
In Happy Glass Puzzles, your objective is simple yet captivating: Fill the empty glass to make it happy! Sounds easy, right? Think again! Each level presents a unique puzzle where you must strategically draw lines or shapes to guide the water flow and fill the glass. But be careful, as you only have a limited amount of ink to use!
Immerse yourself in a world of vibrant and interactive puzzles that range from simple to mind-bogglingly complex. Explore various environments, including cozy kitchens, bustling cities, and serene nature scenes, as you progress through the game. Each level offers a new and exciting challenge that will keep you engaged and entertained for hours on end.
Put your creativity to the test as you experiment with different drawing techniques and solutions. Find the most efficient way to fill the glass, considering factors such as gravity, physics, and obstacles in your path. Discover hidden tricks and clever shortcuts to earn bonus points and unlock additional levels.
With its intuitive touch controls and captivating gameplay, Happy Glass Puzzles is suitable for players of all ages. Simply use your finger to draw lines or shapes on the screen, guiding the water towards the glass. Watch as your artistic strokes come to life, bringing joy to the adorable little glass character.
Challenge yourself to complete each level with the highest score and the fewest ink strokes possible. Show off your puzzle-solving prowess and compare your achievements with friends and players worldwide on the leaderboard. Can you become the ultimate Happy Glass Puzzles master?
The best part is, Happy Glass Puzzles is a browser mobile free game, meaning you can enjoy its addictive puzzles anytime, anywhere, without spending a penny. It offers a wealth of content, with hundreds of levels to keep you entertained and coming back for more.
So, are you ready to dive into the world of Happy Glass Puzzles? Unlock your inner puzzle solver, put your creativity to the test, and experience the joy of filling the glass. Play now and let the challenges begin in this captivating and addictive browser mobile free game!
Screenshot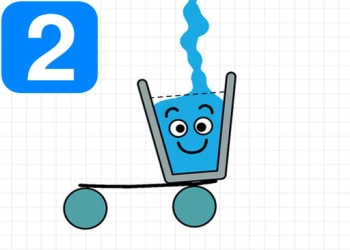 Game Information
Game title:
Happy Glass Puzzles
TIMES PLAYED: 625 VOTES: 21
Play Game
Game Category
Puzzles
Game Tags
How to play
1. Open your mobile browser and navigate to the Happy Glass Puzzles game website.
2. Once the game loads, you'll be presented with a level featuring an empty glass and a limited amount of ink.
3. Your goal is to fill the glass with water to make it happy. To do this, use your finger or stylus to draw lines or shapes on the screen.
4. The water will flow along the lines you draw, so plan your moves strategically. Consider the physics and gravity in each level to guide the water towards the glass.
5. Be mindful of the amount of ink you have. You need to fill the glass using as little ink as possible to earn a higher score. Efficiency is key!
6. Pay attention to the level's layout and obstacles. Some levels may have obstacles that block the water's path or require you to think creatively to overcome them. Use your problem-solving skills to find the best solution.
7. Experiment with different drawing techniques. You can draw straight lines, curved lines, or even use shapes to redirect the water flow. Try different approaches to find the most efficient way to fill the glass.
8. Earn bonus points by completing levels with a high score or in fewer ink strokes. Challenge yourself to achieve a three-star rating on each level by using minimal ink and finding clever solutions.
9. Progress through the game and unlock new levels and challenges. Happy Glass Puzzles offers a wide range of puzzles with increasing difficulty, keeping you engaged and entertained.
10. Enjoy the colorful graphics, relaxing music, and satisfying water animations as you play. Happy Glass Puzzles offers a visually appealing and immersive experience that will keep you coming back for more.
More games