Moto X3M Spooky Land
Get ready for a bone-chilling adventure in "Moto X3M Spooky Land"! This thrilling browser mobile game takes the popular Moto X3M series to a whole new level of Halloween excitement.
Hop on your trusty motorbike and prepare to race through a spine-tingling world filled with haunting obstacles and eerie landscapes. Traverse through ghostly graveyards, treacherous pumpkin patches, and creepy castles as you strive to reach the finish line in record time.
With its intuitive controls and physics-based gameplay, "Moto X3M Spooky Land" offers a thrilling and challenging experience for players of all skill levels. Tackle jaw-dropping jumps, perform daring flips and stunts, and navigate through hazardous obstacles to complete each level.
The game features a wide range of mind-bending tracks designed to test your reflexes and precision. Dodge spinning blades, leap over bottomless pits, and avoid deadly traps as you race against the clock. Collect glowing pumpkins along the way to unlock new bikes and customize your rider.
Immerse yourself in the game's hauntingly beautiful graphics and atmospheric sound effects that set the perfect mood for Halloween thrills. The detailed visuals and spooky animations create an immersive experience that will send shivers down your spine.
Challenge yourself to achieve the highest star rating on each level and unlock special achievements. Compete against other players on the global leaderboard and prove that you are the most fearless and skilled rider in the Spooky Land.
Best of all, "Moto X3M Spooky Land" is available for free on your mobile browser, allowing you to embark on this hair-raising adventure anytime, anywhere. So rev up your engine, put on your helmet, and get ready to conquer the haunted tracks in this addictive and exhilarating motocross game. It's time to show off your skills and become the ultimate Moto X3M Spooky Land champion!
Screenshot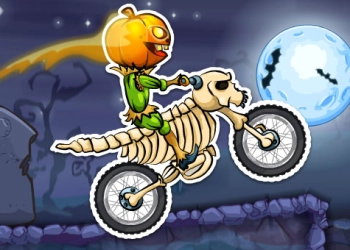 Game Information
Game title:
Moto X3M Spooky Land
TIMES PLAYED: 537 VOTES: 19
Play Game
How to play
1. Start the game: Open the Moto X3M Spooky Land game on your browser mobile game platform.
2. Choose a level: Select a level to begin playing. Moto X3M Spooky Land typically offers multiple levels with increasing difficulty.
3. Objective: The objective of the game is to navigate your motorcycle through challenging and spooky obstacle courses, reaching the finish line as quickly as possible.
4. Controls: Use the on-screen controls or swipe gestures to control your motorcycle. Typically, you'll have buttons to accelerate, brake, and tilt the bike.
5. Accelerate: Press the acceleration button or swipe up to make your motorcycle move forward and gain speed.
6. Brake: Use the brake button or swipe down to slow down or stop your motorcycle when necessary, especially before obstacles or tricky sections of the track.
7. Tilt the bike: To maintain balance and overcome obstacles, tilt your device left or right or use the on-screen tilt controls. This will help you land smoothly after jumps and navigate through challenging terrain.
8. Navigate obstacles: Be prepared for various obstacles and challenges along the track, such as ramps, spikes, gaps, loops, and moving platforms. Use your skill and timing to overcome them.
9. Collect stars: Throughout the levels, you'll find stars placed in strategic locations. Try to collect as many stars as possible to earn higher scores and unlock additional content.
10. Time trial: Moto X3M Spooky Land often includes a time trial element. Aim to complete each level in the shortest time possible to achieve better rankings and improve your overall performance.
11. Retry: If you crash or fail to complete a level, you can retry it to improve your time or try different strategies.
12. Level completion: Your ultimate goal is to reach the finish line. Successfully completing a level will unlock the next one, allowing you to progress through the game.
13. Unlock new content: As you progress, you may unlock new bikes, costumes, or customization options. Use these to personalize your rider and enhance your gaming experience.
14. Enjoy the game: Have fun navigating the spooky-themed tracks, performing tricks, and overcoming challenging obstacles. Appreciate the eerie atmosphere and the adrenaline rush of riding through the haunted levels.
More games