Angry Granny Run: India
Get ready for an adrenaline-pumping adventure with Angry Granny Run: India, the ultimate browser mobile free game that will keep you on the edge of your seat! Join Granny on her wild escapade through the vibrant streets of India as she dodges obstacles, collects coins, and unleashes her feisty attitude!
In Angry Granny Run: India, you'll step into the shoes of Granny, a sprightly and spirited senior who's determined to break free from the confines of her retirement home and embark on a thrilling journey across India. It's time to show the world that age is just a number!
As Granny dashes through the bustling streets, your mission is to guide her safely past a myriad of obstacles that stand in her way. From chaotic traffic to pesky street vendors, nothing can slow down Granny's determined stride. Swipe left and right, jump over obstacles, and slide under barriers to avoid collisions and keep Granny's adventure going.
But that's not all! Granny is armed with a hilarious arsenal of power-ups that will leave a trail of chaos in her wake. Unleash her super strength to plow through obstacles, strap on a turbocharged walking cane for an extra speed boost, or summon her flock of pigeons to create hilarious distractions. These power-ups will not only help Granny overcome obstacles but also provide hours of laughter and entertainment.
Collect coins scattered throughout the streets to unlock exciting upgrades and costumes for Granny. Dress her up in traditional Indian attire, funky outfits, or even superhero costumes to showcase her unique style and add a touch of flair to her daring adventure.
Angry Granny Run: India boasts stunning graphics that bring the colorful streets of India to life. Immerse yourself in the rich culture and vibrant atmosphere as Granny races through iconic landmarks and bustling marketplaces. The catchy Indian-inspired music will keep you grooving to the beat as you navigate through the fast-paced levels.
As a browser mobile free game, Angry Granny Run: India offers instant access to endless entertainment without any downloads or installations. Simply launch the game on your mobile browser and let the fun begin!
Compete with friends and players worldwide in the leaderboard rankings. Aim for the highest scores, challenge your friends to beat your record, and prove that Granny's got what it takes to be the ultimate street-running legend.
Join Granny on her hilarious and action-packed adventure through the vibrant streets of India in Angry Granny Run: India. It's time to show off Granny's unstoppable spirit, overcome obstacles, and sprint to victory in this addictive browser mobile free game. Get ready to laugh, run, and make unforgettable memories with Angry Granny Run: India!
Screenshot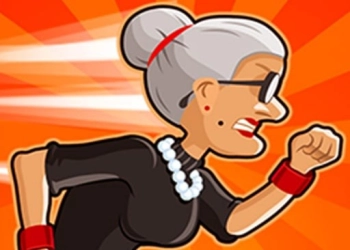 Game Information
Game title:
Angry Granny Run: India
TIMES PLAYED: 474 VOTES: 20
Play Game
How to play
1. Launch the game: Open your mobile browser and navigate to the Angry Granny Run: India game page. Ensure that you have a stable internet connection.
2. Select a control method: Angry Granny Run: India offers multiple control options. You can choose between touch controls or tilt controls based on your preference. Select the control method that feels most comfortable for you.
3. Start running: Once you've selected your control method, the game will begin. Granny will start running automatically, and your goal is to guide her through the challenging streets of India.
4. Avoid obstacles: As Granny runs, you'll encounter various obstacles such as cars, street vendors, potholes, and more. Swipe left or right to change lanes and dodge obstacles. Swipe up to jump over barriers, and swipe down to slide under low-hanging objects. Timing is crucial, so be vigilant and react quickly to navigate through the obstacles.
5. Collect coins: Throughout the game, you'll come across coins scattered along the streets. Make sure to collect as many coins as possible by simply running over them. Coins will allow you to unlock upgrades and costumes for Granny later on.
6. Utilize power-ups: Angry Granny Run: India features exciting power-ups that can help Granny overcome obstacles and enhance her abilities. Look out for power-up icons on the track and tap on them to activate special abilities. These can include super strength to break through obstacles, speed boosts, and more. Use them strategically to maximize your score and progress further.
7. Watch out for special items: Along the way, keep an eye out for special items that can provide extra benefits. These can include bonus points, temporary invincibility, or even a jetpack to soar above the streets. Grab these items whenever you spot them to gain an advantage.
8. Aim for high scores: The objective is to achieve the highest score possible. Collect coins, dodge obstacles, and utilize power-ups effectively to increase your score. Compete with friends or other players globally and strive to reach the top of the leaderboard.
9. Enjoy the experience: Immerse yourself in the vibrant graphics and catchy Indian-inspired music as you run through the exciting streets of India. Have fun, laugh, and enjoy the thrilling adventure with Angry Granny!
More games