Ben 10 Ghost House Adventure
Embark on an exciting ghost-hunting adventure with Ben 10 in the thrilling browser mobile game - Ben 10 Ghost House Adventure! Join Ben Tennyson and his alien heroes as they explore a haunted mansion filled with secrets, puzzles, and supernatural encounters.
In Ben 10 Ghost House Adventure, you'll navigate through mysterious rooms, eerie hallways, and spooky corridors to unravel the secrets of the ghost house. Use Ben's unique alien abilities to solve puzzles, overcome obstacles, and confront the mischievous ghosts that haunt the mansion.
With its stunning graphics, immersive sound effects, and captivating storyline, Ben 10 Ghost House Adventure will keep you on the edge of your seat. Unleash your inner hero as you help Ben save the day and bring peace to the ghost-ridden mansion.
Key Features:
Play as Ben 10: Take control of Ben Tennyson, the courageous hero with the ability to transform into powerful aliens. Harness their unique powers to navigate through the ghost house.
Challenging Puzzles: Put your problem-solving skills to the test with a variety of mind-bending puzzles and obstacles. Find hidden clues, unlock secret passages, and uncover the truth behind the haunting.
Thrilling Ghost Encounters: Face off against mischievous ghosts and other supernatural beings lurking in the mansion. Use your wits and alien powers to outsmart them and restore peace to the house.
Explore Haunting Environments: Immerse yourself in a beautifully designed, atmospheric ghost house. Each room is filled with mystery and surprises, waiting to be discovered.
Unlock Alien Heroes: Discover new alien transformations as you progress through the game. Each alien form possesses unique abilities that will aid you in your quest to defeat the ghosts.
Engaging Storyline: Uncover the secrets of the ghost house through an engaging storyline that will keep you hooked from start to finish. Experience the thrill of an action-packed ghost-hunting adventure.
Get ready to embark on an unforgettable journey with Ben 10 Ghost House Adventure. Can you overcome the supernatural challenges, solve the puzzles, and bring peace to the haunted mansion? It's time to find out! Play now and let the adventure begin!
Screenshot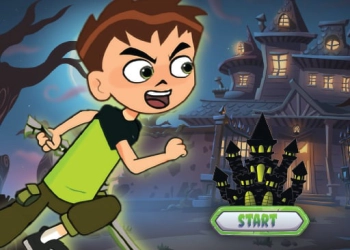 Game Information
Game title:
Ben 10 Ghost House Adventure
TIMES PLAYED: 778 VOTES: 30
Play Game
How to play
1. Launch your mobile browser: Open the web browser on your mobile device and make sure you have a stable internet connection.
2. Search for the game: In the search bar, enter "Ben 10 Ghost House Adventure" and hit enter. You can use your preferred search engine to find the game.
3. Select a reliable website: Look for a trustworthy website that offers the game. Ensure it is a legitimate source to ensure a safe and secure gaming experience.
4. Access the game: Once you've found a suitable website, click on the link or button that says "Play" or "Start Game" to access Ben 10 Ghost House Adventure.
5. Familiarize yourself with the controls: The game may have different control mechanisms depending on the version or platform. Generally, you can use touch gestures on your mobile device to control Ben 10's movements and interact with the environment. Look for on-screen buttons or gestures such as swiping or tapping to perform actions.
6. Follow the instructions: The game may provide an introductory tutorial or on-screen prompts to guide you through the gameplay. Pay attention to any instructions or hints provided to understand the objective and mechanics of the game.
7. Navigate through the ghost house: Use your device's touch controls to move Ben 10 through the haunted mansion. Explore different rooms, hallways, and corridors to uncover secrets, collect items, and solve puzzles.
8. Overcome obstacles and defeat ghosts: Encounter various obstacles, traps, and mischievous ghosts along the way. Utilize Ben's alien abilities to overcome these challenges. Tap or swipe on the screen to perform actions like jumping, sliding, attacking, or using special powers.
9. Solve puzzles and find clues: Keep an eye out for hidden clues, objects, and puzzles scattered throughout the ghost house. Interact with objects by tapping or dragging them to solve puzzles and unlock new areas.
10. Progress through the game: As you navigate through the ghost house, solve puzzles, and defeat ghosts, progress further into the game. Explore new levels, encounter more challenges, and unravel the mysteries of the haunted mansion.
11. Enjoy the adventure: Immerse yourself in the captivating storyline, atmospheric environments, and engaging gameplay of Ben 10 Ghost House Adventure. Have fun and embrace the excitement of a ghost-hunting adventure with your favorite hero, Ben 10.
More games