Moto X3M Winter
Gear up for an exhilarating winter adventure with "Moto X3M Winter," the ultimate browser mobile game that will leave you craving for more! Get ready to defy gravity and push your motocross skills to the limit in this action-packed winter wonderland.
Race through icy terrains, snowy slopes, and treacherous obstacles as you navigate challenging tracks with precision and speed. Perform jaw-dropping stunts, flips, and daredevil maneuvers to earn extra points and boost your adrenaline to new heights. With intuitive touch controls and addictive gameplay, "Moto X3M Winter" guarantees hours of excitement for players of all ages.
Choose from a collection of powerful motorcycles, each uniquely designed to conquer the frozen landscapes. Upgrade your bike's performance and unlock new models as you progress through the game, unlocking new levels and challenges. Customize your rider with a variety of cool outfits and accessories, showcasing your style as you dominate the leaderboard.
Challenge your friends or compete against players worldwide in thrilling multiplayer races. Test your skills in time trials, try to beat ghost riders, or participate in intense head-to-head races. With global leaderboards and regular tournaments, "Moto X3M Winter" provides endless opportunities to prove your dominance on the track.
Immerse yourself in the game's stunning winter-themed graphics, vibrant animations, and captivating sound effects. The immersive atmosphere and dynamic soundtrack will transport you to a world of adrenaline-pumping motocross action.
Best of all, "Moto X3M Winter" is available for free on your mobile browser, allowing you to experience the thrill of extreme winter motocross anytime, anywhere. So bundle up, rev your engines, and conquer the frozen tracks in this addictive mobile game. Get ready to feel the rush of "Moto X3M Winter"!
Screenshot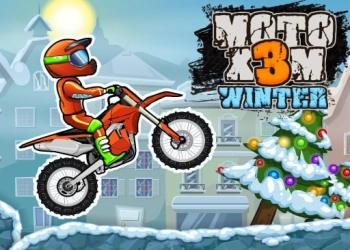 Game Information
Game title:
Moto X3M Winter
TIMES PLAYED: 595 VOTES: 32
Play Game
Game Category
Sports
Game Tags
How to play
1. Launch the Game: Open your mobile browser and navigate to the website hosting Moto X3M Winter. Locate the game and tap on it to launch it.
2. Select a Level: At the start of the game, you'll be presented with a selection of levels to choose from. Select the first level to begin your winter-themed motocross adventure.
3. Control Your Bike: Use the on-screen controls to control your bike. Typically, you'll have buttons for accelerating, braking, and tilting your bike forward or backward. Familiarize yourself with these controls before you start riding.
4. Navigate the Course: Ride your bike through the winter landscapes, overcoming challenging obstacles and jumps. The goal is to reach the end of each level within the given time limit while avoiding crashes and maintaining your balance.
5. Perform Stunts: Moto X3M Winter encourages you to showcase your stunt skills. Use ramps and slopes to perform flips, backflips, and other impressive tricks. Earn extra points for successfully executing stunts during your ride.
6. Avoid Hazards: Watch out for hazards such as spikes, gaps, and other obstacles that can slow you down or cause you to crash. Plan your moves and timing carefully to maneuver past these hazards unscathed.
7. Collect Stars: Along the way, you'll notice stars scattered throughout the levels. Try to collect as many stars as possible to earn additional points and unlock bonus content.
8. Use Power-Ups: Keep an eye out for power-ups that can boost your performance. These power-ups may provide temporary speed boosts, invincibility, or other advantages. Utilize them strategically to gain an edge.
9. Progress to New Levels: Successfully complete each level to unlock the next one. Moto X3M Winter offers a wide range of challenging and exciting levels, each with its own unique obstacles and scenery. Keep progressing to discover new and thrilling environments.
10. Beat Your Best Time: Once you've completed a level, challenge yourself to beat your previous best time. Strive for faster completion times to improve your skills and earn better rankings.
11. Share Your Achievements: Moto X3M Winter allows you to share your achievements with friends and family. After completing a level or achieving a high score, use the in-game sharing options to showcase your performance and compete with others.
12. Enjoy the Winter Atmosphere: Immerse yourself in the winter wonderland of Moto X3M Winter. Enjoy the stunning graphics, snow-covered landscapes, and immersive sound effects that enhance the overall gaming experience.
More games