Red Ball 4 Bounce Adventure
Embark on an epic bouncing adventure in the captivating world of Red Ball 4 Bounce Adventure! This browser mobile free game offers a thrilling and addictive gameplay experience that will keep you hooked for hours.
Join Red Ball, the adorable hero with an indomitable spirit, as he sets out on a mission to save his fellow ball friends from the clutches of the evil Black Square. Roll, jump, and bounce your way through a series of challenging levels filled with puzzles, obstacles, and dangerous enemies.
With its intuitive controls and smooth physics-based gameplay, Red Ball 4 Bounce Adventure is easy to pick up and play. Simply tap or swipe on your mobile screen to control Red Ball's movements. Bounce off walls, platforms, and trampolines to reach higher heights and navigate treacherous terrains.
But be prepared for the unexpected! The wicked Black Square and his minions will stop at nothing to hinder your progress. Dodge spikes, lasers, and other hazards as you maneuver through each level. Use your wits and quick reflexes to overcome tricky puzzles and unlock secret pathways.
Collect stars along the way to earn points and unlock additional levels and customization options. Customize your Red Ball with a variety of cool hats, sunglasses, and other accessories to give it a personal touch.
Red Ball 4 Bounce Adventure features vibrant and colorful graphics, creating a visually stunning world to explore. Each level is beautifully designed, offering a unique and immersive experience. From lush forests to icy caves and fiery volcanoes, the game takes you on a journey through diverse and captivating environments.
Challenge yourself to complete all levels and defeat the evil Black Square in this epic adventure. With its engaging storyline, addictive gameplay, and charming character, Red Ball 4 Bounce Adventure is the ultimate free game for fans of platformers and puzzle games.
So, what are you waiting for? Join Red Ball on his exciting quest, overcome obstacles, and save the world in Red Ball 4 Bounce Adventure! Get ready for a bouncing journey like no other!
Screenshot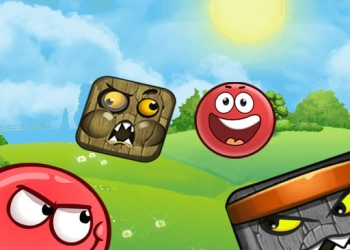 Game Information
Game title:
Red Ball 4 Bounce Adventure
TIMES PLAYED: 772 VOTES: 25
Play Game
How to play
1. Launch the game: Open your browser on your mobile device and navigate to the website hosting Red Ball 4 Bounce Adventure. Click on the game to start playing.
2. Understand the objective: The goal of the game is to guide the red ball through various levels, overcoming obstacles and enemies, and ultimately rescuing the other ball friends from the evil Black Square.
3. Learn the controls: Use your mobile device's touch screen to control the red ball. Tap or swipe on the screen to make the ball move in the desired direction. Swipe upwards to make the ball jump. Utilize the intuitive controls to navigate through each level.
4. Collect stars: Along the way, collect as many stars as you can. Stars will earn you points and help you unlock additional levels and customization options.
5. Avoid obstacles and enemies: Be cautious of spikes, lasers, and other hazards scattered throughout the levels. These can cause the ball to lose a life. Dodge them skillfully to progress further.
6. Solve puzzles: Some levels will feature puzzles that you need to solve to progress. Use your logic and problem-solving skills to overcome these challenges.
7. Customize your ball: As you earn stars, you can unlock various customization options for your red ball. Accessorize it with hats, sunglasses, and other fun items to give it a unique look.
8. Enjoy the journey: Immerse yourself in the vibrant and colorful world of Red Ball 4 Bounce Adventure. Explore different environments, from forests to caves, and enjoy the captivating graphics and sound effects.
9. Progress through the levels: Play through multiple levels, each with its own set of challenges and obstacles. Advance through the game by completing levels and unlocking new ones.
10. Aim for victory: Keep playing and advancing through the levels until you rescue all the ball friends and defeat the evil Black Square. Your determination and skills will be rewarded with a satisfying victory.
More games