Heroball Adventures
Embark on an epic adventure with "Heroball Adventures"! This browser mobile game invites you to join Heroball, the courageous and agile hero, on a quest filled with excitement, challenges, and hidden treasures.
As Heroball, you'll navigate through mesmerizing worlds, brimming with dangerous obstacles and cunning enemies. Use your skills and reflexes to overcome each level's unique puzzles and platforming challenges. Jump, roll, and bounce your way to victory as you collect coins and power-ups along the way.
With its captivating gameplay and intuitive controls, "Heroball Adventures" offers a thrilling experience for players of all ages. Explore stunning environments, uncover secret passages, and unveil hidden rewards as you progress through an ever-expanding universe.
Encounter a variety of enemies and bosses who will test your agility and combat prowess. Unleash powerful attacks, discover unique abilities, and upgrade your skills to become an unstoppable force against evil.
Immerse yourself in the game's vibrant visuals, charming animations, and enchanting sound effects that bring the world of Heroball to life. The colorful graphics and immersive audio create an engaging experience that will captivate your imagination.
Discover captivating storylines and unlock new chapters as you unravel the secrets of Heroball's universe. Engage in thrilling quests and meet memorable characters along the way, adding depth and excitement to your heroic journey.
Best of all, "Heroball Adventures" is available for free on your mobile browser, allowing you to dive into the action anytime, anywhere. So grab your cape, unleash your inner hero, and embark on an unforgettable adventure in "Heroball Adventures"! It's time to embrace your destiny and become the legendary hero you were meant to be.
Screenshot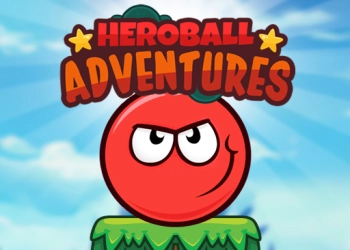 Game Information
Game title:
Heroball Adventures
TIMES PLAYED: 1098 VOTES: 33
Play Game
How to play
1. Launch the game: Open Heroball Adventures on your browser mobile game platform.
2. Start the level: Choose a level or begin from the first level available.
3. Control the hero: You control a heroic ball character who can jump and roll. Use the on-screen controls or swipe gestures to move the hero left or right.
4. Navigate the obstacles: Guide the hero through various obstacles, such as platforms, spikes, pits, and moving objects. Time your jumps and movements carefully to avoid hazards.
5. Collect coins and power-ups: Along the way, collect coins scattered throughout the levels. These coins can be used to unlock new characters or upgrade abilities. Look out for power-ups that grant temporary abilities or enhancements.
6. Defeat enemies: Encounter enemies and obstacles that stand in your way. Jump on enemies to defeat them or use power-ups to overcome challenging situations.
7. Reach the level goal: Your objective is to reach the end of each level. Make your way through the platforming challenges, solving puzzles and overcoming obstacles.
8. Unlock new levels and characters: As you progress in the game and collect coins, you can unlock new levels with increasing difficulty. You can also unlock additional hero characters
with unique abilities.
9. Achieve high scores: Strive to achieve high scores by collecting as many coins as possible, defeating enemies, and completing levels quickly.
10. Enjoy the adventure: Immerse yourself in the thrilling world of Heroball Adventures. Explore different environments, master the controls, and overcome challenges to become a legendary hero.
More games