Jewels Blocks Puzzle
Get ready to embark on a sparkling adventure in "Jewels Blocks Puzzle" - the addictive browser mobile game that will test your puzzle-solving skills! Prepare to be dazzled by the world of shiny gems and challenging puzzles.
In "Jewels Blocks Puzzle," your objective is to clear the board by strategically placing and arranging colorful jewel blocks. Match three or more blocks of the same color to make them disappear and earn points. With each successful move, new blocks will fall from above, creating exciting chain reactions and opening up new opportunities for big scores.
Immerse yourself in the captivating visuals of "Jewels Blocks Puzzle" as you explore a variety of dazzling jewel themes and beautiful backgrounds. The smooth animations and vibrant colors will keep you engaged and entertained as you progress through the levels.
Challenge yourself with hundreds of mind-bending puzzles, each designed to push your strategic thinking to the limit. Plan your moves carefully and use your puzzle-solving skills to clear the board and achieve the highest scores. Can you master every level and become a true jewel-matching champion?
Unlock power-ups and boosters as you progress, giving you an extra edge in challenging situations. Use them strategically to clear stubborn blocks and create explosive combos that will skyrocket your score. With each level you conquer, you'll unlock new and exciting challenges that will keep you coming back for more.
"Jewels Blocks Puzzle" offers simple and intuitive touch controls that make it easy to pick up and play. Just drag and drop the blocks to place them on the board and watch as the magic unfolds. Whether you're a casual player or a seasoned puzzle enthusiast, "Jewels Blocks Puzzle" offers a satisfying and addictive gameplay experience.
Best of all, "Jewels Blocks Puzzle" is completely free to play on your mobile browser. No downloads or installations required. Simply launch the game and immerse yourself in the world of sparkling jewels and captivating puzzles.
So, if you're ready to embark on an exciting jewel-matching journey, join the fun of "Jewels Blocks Puzzle" now! Challenge your mind, sharpen your skills, and let the jewels shine. Get ready to unleash your puzzle-solving prowess and become a master of matching!
Screenshot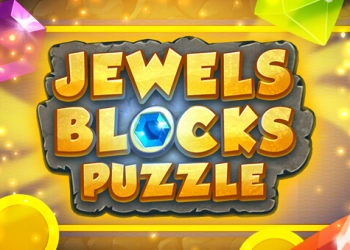 Game Information
Game title:
Jewels Blocks Puzzle
TIMES PLAYED: 243 VOTES: 3
Play Game
How to play
1. Launch the game: Open the "Jewels Blocks Puzzle" game on your browser mobile game platform.
2. Understand the objective: The goal of the game is to clear the board by matching and eliminating groups of jewels.
3. Start the game: Tap the screen or follow any on-screen instructions to begin the game.
4. View the game board: You will see a grid filled with different-colored jewels.
5. Match jewels: Tap on two or more adjacent jewels of the same color to select them. The selected jewels will be highlighted.
6. Eliminate jewels: Once you have selected a group of matching jewels, tap on them again to eliminate them from the board. The remaining jewels will shift and fill the empty spaces.
7. Strategize your moves: Plan your moves carefully to create larger groups of matching jewels. The more jewels you eliminate in a single move, the higher your score will be.
8. Use power-ups (if available): Some versions of "Jewels Blocks Puzzle" may include power-ups or special abilities. Utilize them strategically to clear more jewels or achieve higher scores.
9. Check for specific objectives: Some levels in "Jewels Blocks Puzzle" may have specific objectives to complete, such as clearing a certain number of a particular jewel or reaching a target score. Pay attention to the level requirements and aim to fulfill them.
10. Earn points and bonuses: As you eliminate jewels, you will earn points. Aim to achieve high scores by making large combinations and utilizing special moves or power-ups effectively.
11. Progress through levels: "Jewels Blocks Puzzle" may feature multiple levels with increasing difficulty. Complete one level to unlock the next and encounter new challenges or obstacles.
12. Check for updates or additional content: Developers may release updates with new levels, game modes, or features. Stay updated to enjoy new content and enhance your gaming experience.
13. Pause or quit: You can pause the game at any time or choose to exit and return to the main menu.
More games