Crazy Obstacle Blitz - Going Ball 3D
Get ready for a wild and exhilarating ride with "Crazy Obstacle Blitz - Going Ball 3D"! This action-packed browser mobile game will test your reflexes and challenge your skills as you navigate through a maze of insane obstacles.
Take control of a vibrant ball and embark on a thrilling journey through a world filled with jaw-dropping challenges. Leap over towering hurdles, dodge spinning blades, and maneuver through treacherous platforms as you race against the clock. With simple touch controls and addictive gameplay, "Crazy Obstacle Blitz - Going Ball 3D" guarantees endless hours of fun for players of all ages.
Choose from a variety of unique balls, each with their own personality and style. Customize your ball with a range of eye-catching skins, unlocking new designs as you progress. Collect coins and power-ups along the way to enhance your abilities and boost your chances of success.
Compete against your friends or challenge players from around the world in thrilling multiplayer races. Aim for the fastest time, overcome obstacles with precision, and rise to the top of the leaderboard. With regular tournaments and global rankings, "Crazy Obstacle Blitz - Going Ball 3D" offers fierce competition and endless opportunities for glory.
Immerse yourself in the game's colorful and vibrant 3D graphics, accompanied by energetic sound effects that enhance the excitement of each heart-pounding moment. The immersive visuals and dynamic soundtrack will keep you engaged and entertained throughout your gameplay.
Best of all, "Crazy Obstacle Blitz - Going Ball 3D" is available for free on your mobile browser, giving you the freedom to embark on your thrilling adventure anytime, anywhere. Prepare to be captivated by the addictive gameplay and addictive challenges of "Crazy Obstacle Blitz - Going Ball 3D"! Get ready to roll and conquer the obstacles that await!
Screenshot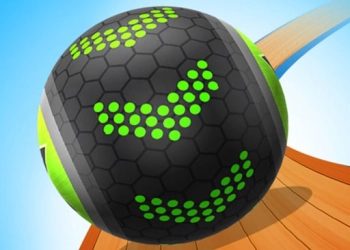 Game Information
Game title:
Crazy Obstacle Blitz - Going Ball 3D
TIMES PLAYED: 1017 VOTES: 52
Play Game
How to play
1. Launch the Game: Open your mobile browser and navigate to the website hosting Crazy Obstacle Blitz - Going Ball 3D. Locate the game and tap on it to launch it.
2. Start the Level: Once the game loads, you'll be presented with a level selection screen. Tap on the first level to begin your adventure.
3. Control the Ball: The objective of the game is to control a rolling ball and navigate it through various obstacles and challenges. Tilt your mobile device left or right to move the ball in the corresponding direction. The ball will roll based on the movement of your device.
4. Avoid Obstacles: As you roll through the level, you'll encounter a variety of obstacles, such as spikes, rotating platforms, gaps, and moving objects. Your goal is to maneuver the ball skillfully to avoid colliding with these obstacles. Precision and timing are crucial.
5. Collect Gems and Power-ups: Throughout the levels, you'll come across gems and power-ups. Collect as many gems as possible to earn points and unlock additional content. Power-ups can provide temporary advantages, such as speed boosts or invincibility, so make sure to grab them whenever you see them.
6. Time Your Moves: Some obstacles require precise timing to pass through. Pay attention to the movement patterns of rotating platforms, swinging pendulums, or other dynamic elements. Plan your moves carefully to avoid getting trapped or hit by these obstacles.
7. Reach the Finish Line: Your objective in each level is to reach the finish line. Navigate through the obstacles, overcome challenges, and keep rolling until you reach the designated endpoint. The level will be considered completed once you cross the finish line.
8. Unlock New Levels: Successfully complete levels to unlock new ones. Crazy Obstacle Blitz - Going Ball 3D offers a wide variety of levels with increasing difficulty. Keep playing and progressing to unlock more challenging and exciting levels.
9. Improve Your High Score: Each level in Crazy Obstacle Blitz - Going Ball 3D has a score system based on your performance. Try to complete levels as quickly as possible while collecting gems and avoiding obstacles to achieve a high score. Challenge yourself to improve your score and compete with others.
10. Enjoy the Gameplay: Immerse yourself in the fast-paced gameplay, vibrant visuals, and energetic music of Crazy Obstacle Blitz - Going Ball 3D. Embrace the challenge, test your reflexes, and have fun rolling through the obstacle-filled environments.
More games