Sonic Jump Fever 2
Join Sonic and his friends in an exhilarating jumping adventure with "Sonic Jump Fever 2"! This action-packed browser mobile game takes the classic vertical platforming experience to new heights.
Take control of Sonic, Tails, Knuckles, and more iconic characters as you leap through vibrant and challenging levels. Aim for the highest jumps and collect as many rings as possible to unleash fever mode, where the action intensifies and your score skyrockets.
With its simple yet addictive gameplay, "Sonic Jump Fever 2" offers endless thrills for players of all ages. Tap the screen to perform precise jumps, avoid obstacles, and defeat enemies along the way. Timing and quick reflexes are crucial as you race against the clock to set new high scores.
Challenge your friends or compete against players worldwide in thrilling multiplayer battles. Show off your jumping skills and race to the top of the leaderboards. With regular events and exciting rewards, "Sonic Jump Fever 2" keeps the competition fierce and the fun never-ending.
Unlock a variety of characters, each with their own unique abilities and playstyles. Customize your characters with stylish outfits, power-ups, and special upgrades that enhance their jumping prowess.
Immerse yourself in the game's colorful visuals, dynamic animations, and energetic sound effects that capture the essence of the Sonic universe. The vibrant graphics and catchy music create an immersive experience that will keep you jumping for joy.
Best of all, "Sonic Jump Fever 2" is available for free on your mobile browser, allowing you to leap into action anytime, anywhere. So put on your jumping shoes, gather your rings, and get ready to soar with Sonic and his friends in this addictive mobile game. It's time to jump to new heights in "Sonic Jump Fever 2"!
Screenshot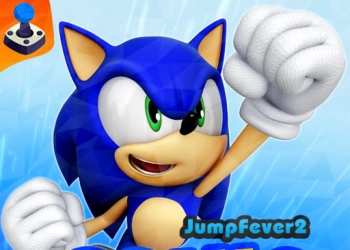 Game Information
Game title:
Sonic Jump Fever 2
TIMES PLAYED: 1574 VOTES: 70
Play Game
How to play
1. Start the Game: Open your mobile browser and navigate to the website hosting "Sonic Jump Fever 2." Look for the game and tap on it to launch the game.
2. Understand the Objective: The objective of Sonic Jump Fever 2 is to guide Sonic or other characters from the Sonic the Hedgehog series through a vertical jumping challenge. Your goal is to jump as high as possible while collecting rings, power-ups, and bonuses along the way.
3. Tap to Jump: In Sonic Jump Fever 2, you control your character's jumps by tapping on the screen. Each tap will make your character perform a jump. Time your jumps carefully to reach higher platforms and avoid falling.
4. Collect Rings and Power-ups: During your jumps, try to collect as many rings as possible. Rings serve as the game's currency and can be used to unlock new characters and power-ups. Additionally, look out for power-ups that can boost your character's performance, such as speed boosts or temporary invincibility.
5. Avoid Obstacles: As you ascend, you'll encounter various obstacles and enemies. Avoid touching them, as it can cause your character to lose rings or fall off the screen. Stay focused and navigate through the gaps and hazards.
6. Combo System: Sonic Jump Fever 2 features a combo system that rewards you for stringing together successful jumps. Try to maintain a continuous series of successful jumps without touching obstacles or falling to increase your combo meter and earn additional points.
7. Fever Mode: By collecting enough rings or certain power-ups, you can activate Fever Mode. In this mode, your character gains enhanced abilities and speed, allowing you to reach even greater heights and earn bonus points.
8. Compete for High Scores: Sonic Jump Fever 2 includes online leaderboards where you can compete against other players for the highest scores. Aim to beat your own high scores or challenge friends to see who can reach the top of the leaderboard.
9. Unlock New Characters: As you progress in the game and earn rings, you can unlock new characters from the Sonic universe. Each character has unique abilities and attributes that can enhance your gameplay experience.
10. Use Special Abilities: Characters in Sonic Jump Fever 2 may have special abilities that can be activated during gameplay. These abilities can help you overcome obstacles, collect more rings, or achieve higher jumps. Experiment with different characters to discover their unique abilities.
More games