Candy Swap
Indulge your sweet tooth and satisfy your craving for puzzle fun with Candy Swap, the addictive browser mobile free game that will keep you coming back for more!
Step into a vibrant world of colorful candies and embark on a delectable matching adventure. Swap and match candies to create mouthwatering combinations and earn high scores. With its easy-to-learn gameplay and charming visuals, Candy Swap is perfect for players of all ages.
Immerse yourself in the sugary sweetness as you explore countless levels filled with tantalizing challenges. Strategize your moves to create explosive candy cascades and unlock special power-ups that will help you conquer even the trickiest puzzles.
But be warned, once you start swapping candies, it's hard to stop! With its addictive gameplay, you'll find yourself lost in a world of candy-matching delight. Compete with friends and family to see who can achieve the highest scores and become the ultimate candy-swapping champion.
Whether you have a few minutes to spare or want to immerse yourself in a longer gaming session, Candy Swap offers a delightful escape that will brighten your day. And the best part? It's completely free to play, so you can enjoy endless hours of candy-swapping fun without breaking the bank.
So, what are you waiting for? Grab your mobile device, visit our website, and embark on a sugar-coated adventure with Candy Swap. Get ready to satisfy your sweet tooth and unleash your puzzle-solving skills in this addictive and deliciously entertaining game. Play now and experience the sugary sensation of Candy Swap!
Screenshot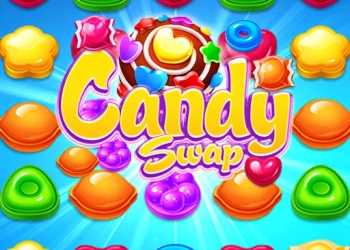 Game Information
Game title:
Candy Swap
TIMES PLAYED: 303 VOTES: 9
Play Game
How to play
1. Open your preferred mobile browser on your device and visit the Candy Swap game website.
2. Once the game loads, you'll be greeted with a grid filled with colorful candies. Your goal is to swap adjacent candies to create matches of three or more of the same color and type.
3. To swap candies, simply touch and drag one candy to an adjacent position. Release your finger to make the swap. The candies will swap places, and if a match is created, they will disappear from the board.
4. Look for opportunities to create special candies. Matching four candies in a row or column will create a striped candy. Matching five candies in an L or T shape will create a wrapped candy. And matching five candies in a row will create a powerful color bomb. These special candies can help you clear multiple candies at once and earn more points.
5. Keep an eye on the available moves and objectives. Each level in Candy Swap has a specific goal that you need to achieve within a limited number of moves. It could be reaching a target score, collecting specific candies, or clearing obstacles from the board. Make strategic moves to accomplish the level objectives and advance to the next challenge.
6. Take advantage of boosters and power-ups. Candy Swap offers various boosters that can be activated during gameplay to help you overcome difficult situations. These boosters can be earned by completing levels or purchased using in-game currency. Use them wisely to clear troublesome candies or achieve high-scoring combos.
7. Earn stars and rewards by completing levels with exceptional performance. Aim to earn three stars on each level by maximizing your score and completing the objectives efficiently. These stars can unlock additional levels or provide you with extra rewards to enhance your gameplay.
8. Connect with friends and compete for the highest scores. Candy Swap allows you to connect your game to social media and compete with your friends for the top spot on the leaderboard. Share your achievements, challenge each other, and see who can reach the highest level or achieve the best score.
9. Enjoy the colorful visuals and delightful sound effects as you progress through the game. Candy Swap offers a visually appealing and immersive experience, creating a sugary world of fun and excitement.
10. Candy Swap is a free-to-play game with optional in-app purchases. While the game can be enjoyed without spending any money, you have the choice to purchase additional lives, boosters, or other bonuses to enhance your gameplay experience.
More games