Darts 501 and more
Get ready to test your aim and precision with Darts 501 and more, the ultimate browser mobile game for darts enthusiasts! Step up to the virtual oche and experience the thrill of hitting the bullseye from the comfort of your mobile device.
With Darts 501 and more, you can enjoy a variety of dart games, including the classic 501 game. Challenge yourself or compete against friends and players from around the world as you aim for those coveted high scores.
Perfect your throwing technique, adjust your aim, and release your dart with precision to hit the target. With intuitive touch controls, you can easily mimic the action of throwing a real dart, creating an immersive and authentic darts experience.
Choose from different game modes, such as Practice, Multiplayer, or Tournament, to suit your playing style and preferences. Hone your skills in Practice mode, where you can focus on improving your aim and consistency. Engage in thrilling head-to-head battles in Multiplayer mode, testing your skills against other players in real-time. Or, take part in challenging tournaments and climb the leaderboards to become the ultimate darts champion.
Customize your darts and flights to match your personal style. Unlock new dart designs, colors, and patterns as you progress through the game and achieve milestones. Show off your unique flair as you dominate the dartboard with style and precision.
Whether you're a seasoned darts player or new to the game, Darts 501 and more offers an accessible and enjoyable experience for players of all skill levels. Experience the excitement of hitting those triple 20s, bullseyes, and high scores as you aim for darting greatness.
So, grab your mobile device, find your throwing rhythm, and get ready to embark on a darting adventure like no other.
Screenshot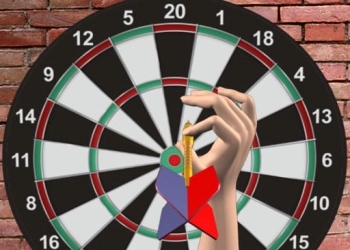 Game Information
Game title:
Darts 501 and more
TIMES PLAYED: 658 VOTES: 18
Play Game
How to play
1. Launch the game: Open your mobile browser and navigate to the website hosting Darts 501 and more. Wait for the game to load, and you'll be ready to play.
2. Choose your game mode: Once the game has loaded, you'll have the option to select different game modes. These may include Practice, Multiplayer, or Tournament. Choose the mode that suits your preference and skill level.
3. Aim and throw: To throw a dart, you'll typically use touch controls. Tap and hold on the screen to aim your dart. Move your finger to adjust the angle and direction of your throw. Release your finger to throw the dart.
4. Score points: The objective of Darts 501 and more is to score points by hitting specific areas on the dartboard. Aim for high-scoring sections, such as the triple 20 or bullseye, to maximize your score. Different game modes may have specific scoring rules or objectives, so pay attention to the game instructions.
5. Practice and improve: If you're new to darts or want to refine your skills, the Practice mode is a great place to start. Take your time, focus on your aim and release, and try to hit your desired targets consistently. Use this mode to practice different throwing techniques and improve your accuracy.
6. Compete in multiplayer or tournaments: If you're feeling competitive, jump into the Multiplayer mode to challenge other players in real-time matches. Show off your dart-throwing skills and strive to outscore your opponents. Alternatively, join tournaments and compete against other players to climb the leaderboards and earn recognition as a top darts player.
7. Customize your darts: As you progress in the game and achieve milestones, you may unlock new dart designs, colors, and patterns. Customize your darts to match your personal style and make your mark on the dartboard.
8. Enjoy the game: Darts 501 and more offers an immersive and enjoyable experience for darts enthusiasts. Take your time, relax, and enjoy the thrill of throwing darts on your mobile device. Challenge yourself to beat your high scores and have fun with the game.
More games