Neon Tile Rush
Prepare for a fast-paced and visually stunning challenge in "Neon Tile Rush"! This browser mobile game will put your reflexes to the test as you race against time to match neon tiles and create mesmerizing patterns.
Step into a vibrant neon world where speed and accuracy are key. Your goal is to quickly tap on the matching tiles before they disappear from the screen. Keep up with the ever-increasing pace, chain combos, and strive for the highest score possible.
With its addictive gameplay and simple controls, "Neon Tile Rush" offers an exciting experience for players of all skill levels. Challenge yourself in various game modes, including timed rush, endless mode, and multiplayer battles. Compete against friends or other players around the globe in thrilling online competitions.
Navigate through a visually stunning neon landscape, accompanied by electrifying music that pulses with each tap. The captivating visuals and dynamic sound effects create an immersive atmosphere, drawing you into the pulsating world of Neon Tile Rush.
Unlock and collect a wide variety of neon themes, each with its own unique style and visual flair. Customize your gameplay experience and add a personal touch to the neon frenzy.
Best of all, "Neon Tile Rush" is available for free on your mobile browser, allowing you to dive into the neon madness anytime, anywhere. So get your fingers ready, react quickly, and embrace the neon rush in this addictive mobile game. It's time to shine bright and master the art of neon tile matching!
Screenshot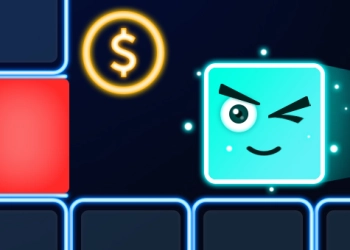 Game Information
Game title:
Neon Tile Rush
TIMES PLAYED: 333 VOTES: 5
Play Game
Game Category
Puzzle
Game Tags
How to play
1. Start the game: Launch Neon Tile Rush on your browser mobile game platform.
2. Tiles appear: Neon tiles will start appearing on the screen in various patterns and colors.
3. Tap the tiles: As soon as the tiles appear, quickly tap on them before they vanish.
4. Timing is key: Be fast and precise with your taps to catch the tiles before they disappear.
5. Combo points: If you tap multiple tiles in quick succession, you can earn combo points and boost your score.
6. Watch out for bombs: Some tiles may have bombs on them. Avoid tapping on the bombs, as they will end the game.
7. Time limit: Pay attention to the timer at the top of the screen. The game is over when the time runs out.
8. Achieve high scores: Aim to tap as many tiles as possible within the time limit to achieve a high score.
9. Compete with friends: Challenge your friends to beat your high score and see who can tap the most tiles.
More games