Subway Surfers Beijing
Get ready to embark on a thrilling adventure through the bustling streets of Beijing in "Subway Surfers Beijing"! This exciting browser mobile game invites you to join the daring Jake and his friends as they dash, dodge, and slide their way through the vibrant metropolis.
Race through the subway tracks, leap over obstacles, and dash past oncoming trains as you collect coins and power-ups along the way. Test your reflexes and agility as you navigate through the colorful and detailed streets of Beijing, avoiding the inspector and his mischievous dog. With easy swipe controls and addictive gameplay, "Subway Surfers Beijing" guarantees endless hours of fast-paced fun for players of all ages.
Unlock a cast of charismatic characters, each with their own unique abilities and stylish outfits. Customize your favorite characters with a wide range of cool accessories and hoverboards, allowing you to personalize your subway surfing experience.
Compete against friends or challenge players worldwide in exhilarating multiplayer races. Aim for the highest scores, master tricky challenges, and rise to the top of the leaderboards. With regular updates and exciting events, "Subway Surfers Beijing" keeps the excitement going as you strive for subway surfing supremacy.
Immerse yourself in the game's vibrant graphics, lively animations, and catchy sound effects that capture the energy and spirit of Beijing. The immersive visuals and upbeat soundtrack create an engaging atmosphere that will keep you hooked from start to finish.
Best of all, "Subway Surfers Beijing" is available for free on your mobile browser, offering you the freedom to join the adventure anytime, anywhere. So lace up your running shoes, hop on your hoverboard, and prepare for an epic subway surfing escapade through the enchanting streets of Beijing in this addictive mobile game. It's time to show off your skills and become the ultimate Subway Surfer!
Screenshot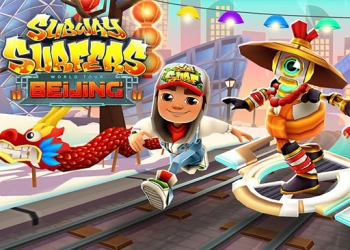 Game Information
Game title:
Subway Surfers Beijing
TIMES PLAYED: 926 VOTES: 41
Play Game
How to play
1. Launch the Game: Open your mobile browser and visit the website where Subway Surfers Beijing is hosted. Locate the game and tap on it to launch it.
2. Start Running: Once the game starts, you'll find yourself controlling the main character, a graffiti artist named Jake, who is on a high-speed chase through the vibrant streets of Beijing. Jake is automatically running, and your goal is to guide him through the subway tracks and avoid obstacles.
3. Swipe to Move: To control Jake's movements, swipe left or right on your mobile screen. Swipe left to move him to the left side of the tracks and swipe right to move him to the right side. This will help him avoid incoming trains and other obstacles in his path.
4. Jump and Slide: As you navigate the subway tracks, you'll encounter barriers and obstacles such as trains, barriers, and hurdles. Swipe upward on your screen to make Jake jump over these obstacles, and swipe downward to make him slide under barriers. Timing is crucial, so make sure to jump and slide at the right moments to avoid collisions.
5. Collect Coins and Power-Ups: While running, you'll notice coins scattered along the tracks. Swipe left or right to collect these coins, which can be used to purchase various power-ups and upgrades. Look out for power-ups such as jetpacks, magnets, and super sneakers, which can help you navigate the tracks more easily and earn higher scores.
6. Avoid Obstacles and Inspector: Be cautious of obstacles such as trains, barricades, and barriers that can abruptly end your run. Colliding with these obstacles will result in your capture by the inspector and his dog. Stay alert, react quickly, and maneuver skillfully to avoid any obstacles that come your way.
7. Complete Missions: Subway Surfers Beijing features a series of missions and challenges that you can complete to earn additional rewards and unlock new content. These missions can range from collecting a specific number of coins to reaching a certain distance. Keep an eye on the mission objectives and try to fulfill them while running.
8. Explore the Subway: While running, be on the lookout for hidden paths, secret areas, and alternate routes. Exploring different paths can lead you to hidden treasures, additional coins, and bonus power-ups. Take advantage of these opportunities to maximize your score and discover new elements of the game.
9. Compete with Friends: Subway Surfers Beijing incorporates a competitive element where you can challenge your friends or other players worldwide for the highest scores and rankings. Connect to social networks if prompted to compare your scores and achievements with others.
10. Enjoy the Endless Run: Subway Surfers Beijing offers an endless running experience, so keep running, dodging, and collecting as far as you can. Aim for high scores, unlock new characters and hoverboards, and enjoy the thrilling adventure through the colorful streets of Beijing.
More games