Bike Racing 2019 : Extreme Bike Race
Get ready for the ultimate adrenaline-pumping experience with "Bike Racing 2019: Extreme Bike Race"! Hop on your high-speed motorcycle and prepare for heart-stopping stunts, intense competition, and thrilling race tracks that will push your skills to the limit.
In this action-packed browser mobile game, you'll embark on a journey through breathtaking landscapes, from winding mountain roads to bustling city streets. Feel the rush as you maneuver through challenging obstacles, perform jaw-dropping jumps, and leave your opponents in the dust.
Choose from a variety of powerful bikes, each with its own unique attributes and upgrades. Customize your ride with eye-catching paint jobs and cool accessories, making it a true reflection of your style and personality. Are you ready to showcase your skills and dominate the racing circuit?
Challenge yourself in a range of game modes, including time trials, championships, and multiplayer races. Compete against skilled AI opponents or go head-to-head with friends and players from around the world. Can you climb to the top of the leaderboard and become the ultimate bike racing champion?
Immerse yourself in stunning graphics and realistic physics that bring the thrill of bike racing to life. Feel the wind in your face as you speed through the tracks, and experience the heart-pounding excitement of each twist and turn. The intuitive controls and responsive gameplay ensure a smooth and enjoyable experience for both casual players and racing enthusiasts.
"Bike Racing 2019: Extreme Bike Race" is a free-to-play game that offers endless hours of thrilling entertainment. No downloads or installations required – simply launch the game in your mobile browser and start your two-wheeled adventure instantly.
Are you ready to conquer the most challenging race tracks, perform gravity-defying stunts, and become the ultimate bike racing champion? Get on your bike, rev up the engine, and let the race begin in "Bike Racing 2019: Extreme Bike Race"! It's time to unleash your inner speed demon and show the world what you're made of.
Screenshot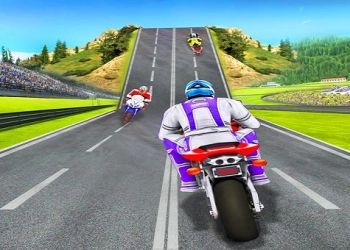 Game Information
Game title:
Bike Racing 2019 : Extreme Bike Race
TIMES PLAYED: 576 VOTES: 17
Play Game
How to play
1. Start the Game: Launch the game in your mobile browser and tap the "Play" button to begin. You will be presented with a selection of bikes to choose from. Select the bike that suits your preference and tap "Start" to proceed.
2. Controls: The game features intuitive controls that allow you to steer your bike and perform various actions. Use the on-screen buttons to control your bike's movements. Typically, you will have buttons to accelerate, brake, and tilt the bike forward or backward for balance.
3. Race Tracks: The game offers multiple race tracks with varying difficulties and landscapes. Each track presents unique challenges, such as sharp turns, ramps, and obstacles. You will need to navigate through these tracks while maintaining control of your bike and avoiding collisions.
4. Acceleration and Braking: Use the acceleration button to speed up your bike and gain an advantage over your opponents. Be careful not to accelerate too much, as it can make your bike difficult to control. The brake button allows you to slow down or come to a complete stop when needed, especially before sharp turns or to avoid obstacles.
5. Balance and Tilt: Properly balance your bike by tilting it forward or backward using the corresponding on-screen buttons. This helps you maintain stability and control during jumps, ramps, and uneven terrain. Mastering the balance and tilt mechanics is crucial for successfully navigating through the tracks.
6. Overtaking and Avoiding Collisions: As you race, you will encounter other riders on the track. Overtake them by maneuvering your bike to their sides and accelerating past them. Be cautious when overtaking to avoid collisions. Colliding with other riders or objects on the track will slow you down and may lead to failure.
7. Collecting Coins and Power-ups: Keep an eye out for coins scattered throughout the tracks. Collecting coins allows you to unlock new bikes and upgrades. Additionally, you may come across power-ups that provide temporary boosts, such as increased speed or invincibility. Grab these power-ups to gain an advantage over your opponents.
8. Time Trials and Championships: The game offers various modes, including time trials and championship races. In time trials, your objective is to complete the track as quickly as possible to beat your own records. Championship races involve competing against other riders and aiming for the first-place position.
9. Upgrades and Customization: Use the coins you collect to upgrade your bike's performance, such as acceleration, top speed, and handling. You can also customize your bike's appearance with different paint colors, decals, and accessories.
10. Achievements and Leaderboards: Challenge yourself to unlock achievements by completing specific tasks or reaching milestones in the game. Compete against other players from around the world and aim for the top of the leaderboards to showcase your racing skills.
More games